I got the idea from ESPN's March Madness-style "Greatest Season Ever" bracket that used online voting to determine the greatest offensive baseball season of all time. Over 700,000 total votes were tallied and
Babe Ruth
's 1921 masterpiece ended up defeating
Ted Williams
memorable 1941 season (70 percent to 30). I thought it would be fun to look back and pick out the best season from each decade. When I finish the series I will do the same for starting pitchers.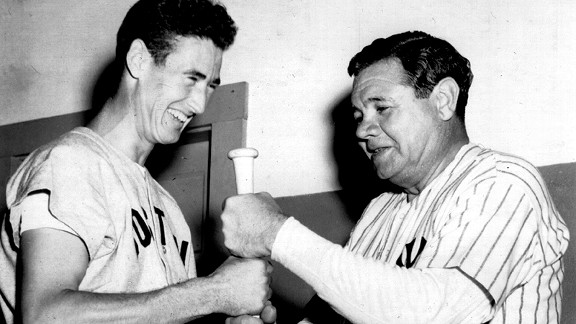 The two greatest hitters of all-time
For the first edition in the series, the only serious competition this particular player had was himself. The Who? was never in doubt, but the When? certainly was.
2004
Barry Bonds
(12.4 bWAR)
During the year that Bonds turned 40, he enjoyed what was arguably his finest season that capped off a five year stretch of utter dominance. I picked his 2004 over 2001, when set single season records for home runs, slugging percentage, walks, and won a record fourth MVP award, because many of his numbers in '04 were just as good, if not better. For example, he walked more, struck out less, had a higher batting average, OBP, OPS, and OPS+. If you look past the shortfalls in the sexier home run and RBI departments, it becomes clear that Bonds was an even better hitter in 2004 than he was in 2001. Check out some key stats from his monster season.
-Broke his own single season records for walks (232), intentional walks (120), on base percentage (.609), and OPS (1.422) while also setting a record for most consecutive seasons, thirteen, with at least 30 home runs (
Alex Rodriguez
would tie his mark in 2010).
Bonds didn't swing often, but when
he did, he made it count
-For the first and only time in his career, he finished a season with more longballs (45) than whiffs (41). That same year,
Adam Dunn
swatted one more home run but fanned 195 times!
-Tied a career high with 129 runs scored, a total he reached in 1993, 2000 and 2001
-Won his second NL batting title in three years with a .362 mark.
Ichiro Suzuki
took the major league crown with his .372 average, fueled by a single season record 262 base hits.
-Blasted 39 home runs
before
the All-Star break to set a new record. 2011 NL MVP runner-up
Matt Kemp
needed the whole season to hit 39 home runs, as did
Mark Teixeira
-Slugged .812, the fourth highest figure of all time behind himself (.863 in 2001) and Babe Ruth's 1920 and 1921 campaigns (when the Bambino slugged .847 and .846, respectively)
-His adjusted OPS+ was 263, just short of his own major league record of 268 set two years prior
-Homered once every 8.3 at-bats
-Batted .412/.638/.962 in 74 home games...and I last time I checked the Giants played in a pitcher-friendly venue
-Want consistency? His second half OPS matched his first half figure
-Passed
Willie Mays
for third place all-time on the home run list early in the season and smashed his 700th career dinger in September
-He netted his seventh National League Most Valuable Player award, his fourth in a row, but was denied a unanimous vote because
Adrian Beltre
(10.1 bWAR)received six first place votes for the year of his life while
Albert Pujols
(9.4 bWAR) and
Scott Rolen
(9.2 bWAR) snagged one apiece for their contributions to a Cardinals juggernaut that won 105 games (only to be swept by my Red Sox in the World Series!). He was also named to the All-Star team (duh) and took home a Silver Slugger, the NL
Hank Aaron
Award, and the Sporting News ML Player of the Year award.
Bonds was still going strong at age 40, long after many of his peers had retired