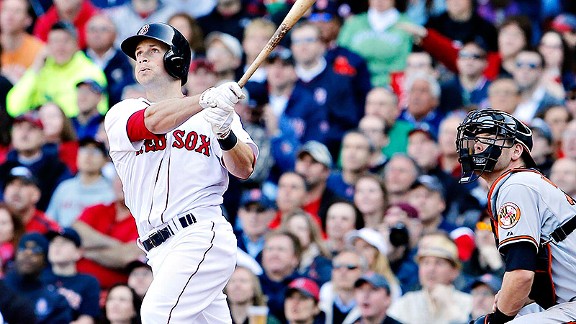 Nava puts the Sox ahead with a three-run bomb
Fresh off consecutive series wins over the New York Yankees and Toronto Blue Jays, the first-place Boston Red Sox made their way back to Fenway Park for their home opener against the Baltimore Orioles. The last time the Fenway Faithful saw them, the sorry Red Sox resembled a Triple-A ballclub as they stumbled towards their worst season since 1965.
That was only six months ago, but so much has changed since then that it might as well have been six years ago. Boston's roster is much improved, and given their hot start it's hard not to feel optimistic about their chances in an
up-for-grabs division
. Even the weather reflected Red Sox Nation's upbeat mood: with warm sunshine drenching their century-old ballpark and a slight breeze blowing in from left field, it was a perfect day for baseball.
The capacity crowd at the Fens was treated to an old-fashioned pitcher's duel between
Wei-Yin Chen
and
Clay Buchholz
, watching helplessly as the hurlers traded zeroes for the first six and a half innings. Boston's sluggers were held in check, unable to take advantage of the unseasonably warm weather or the short porch in left. Baltimore's batters were equally baffled, fanning eight times against Buchholz and mustering just three hits--all singles.
In this pitcher's version of a staring contest, it was Chen who blinked first when he seemed to run out of gas in the bottom of the seventh With his pitch count pushing triple digits, the tiring starter got himself into a jam when
Dustin Pedroia
singled and
Mike Napoli
doubled with nobody out.
With two men in scoring position and
Will Middlebrooks
in the batter's box, just 24 hours removed from a three-homer game north of the border, the Fenway Faithful sprang to life. Things were finally getting interesting, for Middlebrooks appeared to be a good bet to provide some fireworks. But today was not his day; the young slugger struck out for the second time against Chen. He shuffled back to the dugout, head down, his face darkened by the long shadows creeping across the infield.
That brought up
Daniel Nava
, who with a walk and a single was the only Red Sox player that had given Chen even the slightest bit of trouble. Whatever sorcery Chen had used to confound the rest of Boston's lineup, it wasn't fooling Nava. Sure enough, he got the better of Chen once more, becoming the unlikely hero by swatting a three-run shot over the Monster. When it came down, Boston had itself a 3-0 lead, Chen was done and Fenway Park was rocking like it was 2004.
Given that Buchholz had already logged 113 pitches on the afternoon,
John Farrell
turned the game over to his bullpen. He used
Andrew Bailey
as a bridge to the ninth inning, then brought in
Joel Hanrahan
to close out the win.
Hanrahan had an adventurous last inning not unlike the stressful situations his predecessor,
Jonathan Papelbon
, created so often during his tenure in Boston. It started when the red-hot
Adam Jones
jacked a solo shot--his first homer of the year--to lead off the ninth and get Baltimore on the board. Hanrahan recovered, retiring
Chris Davis
with a groundout and striking out
Matt Wieters
.
Then, just when Sox seemed to be in the clear,
J.J. Hardy
hammered a double to bring the tying run to the plate in the form of
Ryan Flaherty
. The crowd was growing restless. Even though most Red Sox loyalists have endured countless chokes and meltdowns in their lifetimes, each new wound stings just as much as the one that preceded it. Nevermind Flaherty's thoroughly mediocre batting record--
Bucky Dent
and
Aaron Boone
taught Sox fans to never underestimate their opponents, no matter how non-threatening they appear.
Thankfully, the seldom-used second baseman was just as harmless as his numbers suggested. He ended the game by popping out to Middlebrooks in foul territory. The fans breathed a collective sigh of relief, "Dirty Water" echoed through the grandstands, and the Olde Towne Team lined up for congratulatory high-fives.
Baseball is back, and so are the Red Sox.