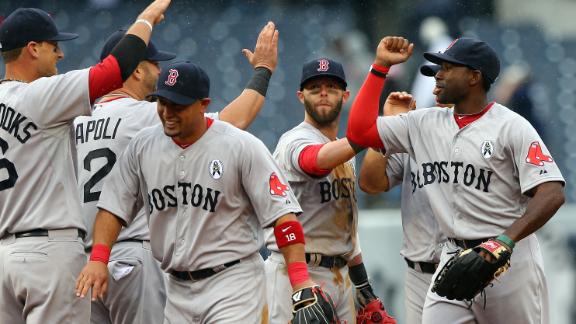 Last winter, the Boston Red Sox poured just as much time and energy into rehabbing their reputation as they did rebuilding their roster. One of their catch-phrases for the upcoming season was that 2013 would provide "162 chances to restore the faith." Red Sox management knows its going to take time to win back a fan base that became alienated by the team's recent downturn. The front office also knows that winning cures all, and fans will be quick to return if their Boys of Summer can contend for a playoff spot this year.
October is still a long ways away, but hopes are high after Boston's 8-2 Opening Day win over their arch-rivals at Yankee Stadium. While one win can't erase what happened last year or the nightmarish September that preceded it, it's a start.
Boston's new-look offense battered
CC Sabathia
to the tune of eight hits and four runs, all of which scored in the second inning, to drive the Yankee ace from the after the fifth inning.
Jon Lester
also departed after five, but spring training success carried over into the first game of the season. While the Yankees are nowhere near full strength, it was still encouraging to see Lester limit New York to two runs and five hits while striking out seven.
Lester threw 96 pitches before entrusting his 4-2 lead to Boston's bullpen, hailed by many during the preseason as the team's greatest strength.
Koji Uehara
,
Andrew Miller
,
Andrew Bailey
,
Junichi Tazawa
, and
Joel Hanrahan
(all expertly deployed by
John Farrell
) held the Yankees to just one hit--a
Travis Hafner
single--and no runs over the final four frames to preserve Lester's first win of the season. Meanwhile, the Sox scratched out another run in the seventh, then tagged
Joba Chamberlain
for three runs in the ninth to put the game away.
New York hadn't suffered an Opening Day loss at home since 1982, kickstarting a disappointing season in which the Bronx Bombers went 79-83 and finished fifth in the AL East. Given their
aging roster and slew of injuries
, history may very well repeat itself here in 2013.
Some other notes from Boston's encouraging win: