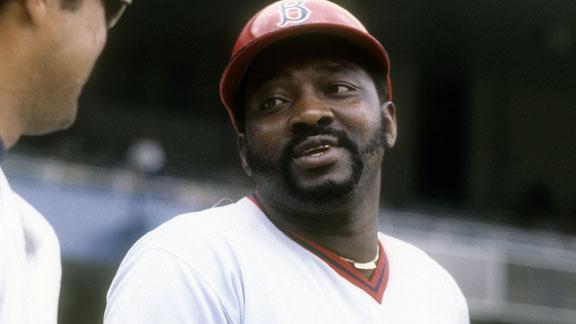 George Scott
, a member of the Red Sox Hall of Fame and former All-Star, passed away on Monday at age 69.
Boomer, a big man with a big swing, will be remembered for many things, namely his referring to home runs as "taters." He named his glove "Black Beauty." He wore a batting helmet while playing the field, a measure of protection against road fans who would throw hard objects his way. A latter-day
Babe Ruth
, he enjoyed consuming prodigious amounts of food more than he enjoyed hammering home runs. In the end it caught up with him.
Scott's legacy extends far beyond his quirky mannerisms and big-time power. It's important to remember that Scott was one of the saviors of baseball in Boston. Along with
Tony Conigliaro
,
Rico Petrocelli
,
Reggie Smith
, and
Joe Foy
, Boomer was one of the many talented young Red Sox to blossom at the tail end of the team's dark age in the mid-1960s. He also overcame the burden of being one of the team's first African American stars, coming along just seven years after
Pumpsie Green
broke the franchise's color barrier in 1959.
Scott hit the ground running in his 1966--his rookie campaign--by swatting 11 home runs in his first 26 big league games. He went on to play in all 162 games that year, was chosen as the AL's starting first baseman in the All-Star Game and finished third in the Rookie of the Year vote behind Tommy Agee and
Jim Nash
. As sensational as the 22 year-old was, his all-or-nothing approach at the plate produced 27 home runs, 90 RBI, and 152 strikeouts--most in the majors. Scott, like most of his young teammates, had plenty of potential but lacked the polish needed to realize it.
Looking back, Scott probably didn't get the credit that his impressive power figures deserved because of his .245 batting average, even though he actually bettered the league average by five points. And while we wouldn't give too much thought to his 152 strikeouts today, it's important to remember that hitters back then fanned 29% less often than they do in 2013. Adjusted to current league averages, Boomer would've whiffed 196 times. Imagine the outcry that would have ensued had he done that in 1966!
There was no sophomore slump for Scott, who was instrumental in helping Boston capture its first pennant since 1946. Though his power numbers suffered a bit, he showed signs of maturity under new manager
Dick Williams
. His walk rate improved and he cut down on his strikeouts, helping him boost his batting average to .303. He also won his first of eight career Gold Glove awards: among first basemen, only
Don Mattingly
and
Keith Hernandez
have more.
While Baby Boomers remember
Carl Yastrzemski
single-handedly willing the Red Sox into the World Series with his clutch hitting down the stretch, Scott did his part by batting .357 with two home runs in the last seven games of the season. Unfortunately, he couldn't carry that momentum into the Fall Classic, where he batted .231 with nary an RBI. Boston lost to
Bob Gibson
and the St. Louis Cardinals in seven games, and Scott would never again experience the thrill of a postseason at-bat.
The defending AL champs slumped to fourth place in 1968, but nobody regressed more than Scott. He cratered in "The Year of the Pitcher," enduring what was probably the worst offensive season of all time. For someone who played 124 games, his numbers are staggeringly bad: 23 runs, three long balls, 25 RBI, and a .171/.236/.237 batting line. Even considering the offense-starved context, those triple slash stats translated to a putrid 40 OPS+. Though he won the Gold Glove award again, B-R calculates that his embarrassing incompetence at the plate cost the Red Sox three wins that year.
Scott bounced back in 1969 (it's not like he could've been any worse) but still had a subpar year with the stick. We'll never know if he would've won a third straight Gold Glove award, for he moved across the diamond to third base (where he played in the minors) so
Dalton Jones
could man first. This wasn't
Miguel Cabrera
going back to the hot corner to make room for
Prince Fielder
, though, and Scott would return to first full-time two years later. He picked up where he left off, winning his third Gold Glove award in addition to clubbing 24 home runs. Boomer was back.
But as good as Scott was, there was the sense he wasn't playing up to his potential. He'd yet to replicate the home run and RBI totals from his rookie year, failing to develop into the .300-30-100 monster he seemed destined to become. That October, Scott was one of six Red Sox packaged together with
Jim Lonborg
,
Ken Brett
,
Billy Conigliaro
in a blockbuster trade with the Milwaukee Brewers that netted four players, including All-Star
Tommy Harper
, in return. If Boston's front office thought Scott had already reached his ceiling, they were sorely mistaken. In reality, he was just coming into his prime.
Away from the Boston's intense media scrutiny and polarizing racial divisions, Scott enjoyed his peak seasons with Milwaukee. He emerged as one of the league's best sluggers and continued playing top notch defense. In his five seasons with the Brewers, he was a Gold Glove recipient every year while averaging 23 dingers, 93 ribbies and a 131 OPS+ per season. His best year came in 1975, when he won two legs of the triple crown by topping the Junior Circuit in home runs with 36, tying
Reggie Jackson
, and runs batted in with 109. He also paced the AL with 318 total bases and was an All-Star selection for the first time since his rookie year.
After a comparatively down year in 1976, Scott was traded back to Boston for
Cecil Cooper
, an up-and-coming first baseman who, like Scott, would make Red Sox management look foolish by starring in Milwaukee long after Boomer hung up his spikes. To be fair, Scott's first year back in Beantown was a good one, but by '78 he was 34 and a shell of his former self, a liability for a team that missed out on a postseason berth by one win. He struggled even worse in 1979, causing the Red Sox to trade him away to Kansas City. The Royals needed just two months to realize he was over the hill, then flipped him to New York, where he enjoyed one final blaze of glory by batting .318 in his 16 game stint with the Yankees.
Scott finished his 14 year-career with 271 home runs, 1,051 RBI, and 1.992 base hits. Not Hall of Fame numbers, but still pretty good nevertheless. Had he stayed in better shape, he probably could've played into the 1980s and might have landed a DH gig somewhere. Even so, he's still one of the 50 best first basemen ever. Surprisingly, the Red Sox haven't had very many good first basemen, so Scott has a legitimate case as the best in team history (depending on how much you value his defense). Since I believe a first baseman's bat is much more important that his glove, I rank Scott third behind
Jimmie Foxx
and
Mo Vaughn
among Red Sox first sackers.