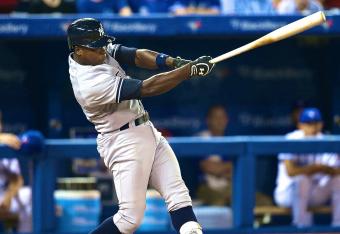 Soriano smashes his milestone home run at the Rogers Centre
Alfonso Soriano
,
featured in this space two weeks ago
while in the midst of a scalding hot streak, crushed two more home runs last night. The pair of long balls pushed his career total to an even 400, something only 50 men (six of them Yankees) have accomplished before.
New York was already leading Toronto 1-0 when Soriano stepped in for his first at-bat, and threatening to add more with
Derek Jeter
and
Robinson Cano
aboard. The ever-aggressive Soriano jumped all over the first pitch he saw from
J.A. Happ
and crushed it--a towering, no-doubt-about-it moonshot into the left field stands. His monster three-run jack dealt a major blow to the Blue Jays, but more importantly it gave
Andy Pettitte
a nice cushion to work with before he even toed the rubber.
The score was still 4-0 when Soriano led off the top of the third, but it didn't stay the way for long. Soriano swung at the first pitch again and got the same result. His
second blast
barely cleared the yard, sailing over a leaping
Kevin Pillar
and bouncing off the back of the left field fence.
Mark Reynolds
and
Alex Rodriguez
later added solo shots of their own, and that proved to be more than enough support for Pettitte. The crafty southpaw hurled seven shutout innings, handcuffing
Jose Reyes
,
Edwin Encarnacion
and co. as the Bronx Bombers cruised to a 7-1 victory over their division rivals.
The win was a big one for the Yankees, who have won 12 of their past 17 but still sit 4.5 games out of the second Wild Card spot. With a month left in the season, New York still has time to make up that ground--about one game in the standings per week. The odds of that happening, however, are slim. Baseball-Prospectus estimates their playoff chances are seven percent. Coolstandings.com is only slightly more optimistic, pegging their postseason odds at ten percent.
There's no margin for error. The Yankees need to sprint to the finish line and hope the guy in front of them slips on a banana peel. They have one more game in Toronto tonight--a likely win with
Hiroki Kuroda
on the bump--before heading back to the Bronx for a pivotal ten-game homestand. They're fighting for their playoff lives, but at least they'll get to battle on their home turf, where they're significantly better (.585 winning percentage) than they are everywhere else (.478).
And if last night's performance is any indication of things to come from Soriano, he's going to win some games with his bat down the stretch. His heavy hitting has fueled the Yankees' recent tear, and if he keeps it up he may be able to single-handedly slug New York into the postseason. If he can do that, the late-July trade that brought him back to the Big Apple, that was
ordered by Hal Steinbrenner against the wishes of Brian Cashman
, will go down as one of the best midseason deals of all-time.
Yankee management has made a lot of questionable moves recently, whiffing on the likes of
Kevin Youkilis
,
Travis Hafner
, and
Vernon Wells
. But bringing back Soriano, another old and overpaid star, has been a home run.