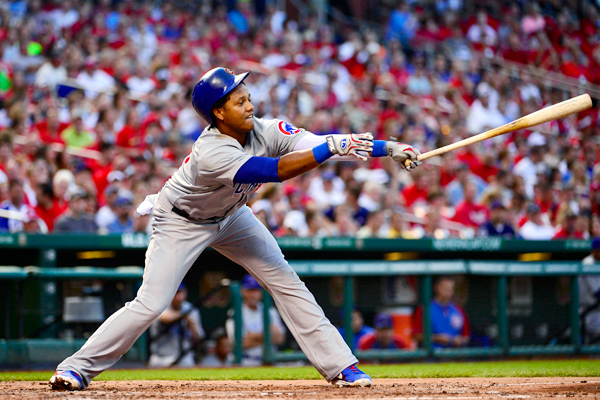 Coming into the 2013 season,
Starlin Castro
seemed to be a player on the rise. Just 23 years old, he'd already made two All-Star appearances and amassed over 500 hits. His power was developing and he'd improved upon his subpar defense. All signs pointed to a player who was trending upward, who was only going to get better until he reached his superstar ceiling in a few short years.
Well, so much for that.
Rather than continuing to progress, Castro's cratered. His latest slump (just seven hits--all singles--in the past two weeks) has dropped his batting line to .238/.276/.333. His strikeouts are up, way up, and his walks are down. His season-long slump has sapped his confidence, causing Castro to look
worse with each passing day
.
Those offensive struggles seem to have followed him out onto the field, where he's regressed into the below average shortstop he was prior to last season. He's shown poor decision making on the basepaths as well, getting thrown out in six of his 14 steal attempts.
In short: everything that could go wrong has gone wrong. And on top of that, his Chicago Cubs are wallowing in last place, playing out the string in what will become their fourth straight losing season and, more importantly, 105th consecutive year without a World Series championship.
But Castro was supposed to be one of the few bright spots for the Cubbies in 2013, a building block for a rebuilding franchise. Instead, he's unraveled. His numbers have flatlined to the point where he been the team's least valuable position players per bWAR.
As is usually the case with such dramatic drop-offs, he's been victimized by bad luck. His .287 BABiP isn't crazy low compared to the league average, but it is nearly 40 points below his career norms. His batted ball distribution hasn't changed much, so declining contact rates, especially on pitches within the strike zone, appear to be the culprit for his struggles at the plate. As for his issues on the bases and in the field, those have more to do with his
Hanley Ramirez
-esque
mental lapses
than anything else.
Castro's better than this, and I have to believe he'll bounce back next year. He showed far too much promise in his early 20s to be written off. Players who succeed at such an early age (i.e.
Mickey Mantle
,
Alex Rodriguez
,
Albert Pujols
) tend to thrive, if not get better. Even the best young baseball players struggle, as we've seen with
Jason Heyward
,
Justin Upton
, and
Eric Hosmer
.
Growing pains are part of the game, and it's clear that Castro still has some growing up to do.