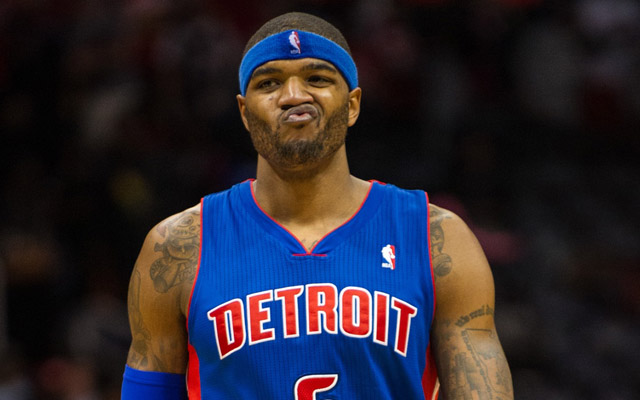 Smith is a talent, but a frustrating and expensive one at that (CBSSports)
The following article was contributed by Robert Simms:
There is a team in Detroit that is unhappy with one of their big men. That team of course is the Pistons, and that big man in question is forward
Josh Smith
, a stretch power forward who refuses to accept that he is not a wing player. Smith is an incredible athlete who could flourish in the right system, if last season serves as any indication of the future then Detroit is not the right system.
It was almost a year ago to the day that the Pistons signed Smith to a large near-max contract by Detroit's then-GM
Joe Dumars
. The organization almost immediately regretted the deal, a four-year, $56 million dollar gamble in a player who had never made an All-Star team. The vision Dumars had in mind when he signed Smith was to play bully-ball in a league infatuated with going small. He believed the triumvirate of Smith,
Andre Drummond
, and
Greg Monroe
would pound teams down low and dominate the glass. What he failed to account for, however, was the utter lack of spacing that would exist when the three bigs played together.
The entire league knows that Josh Smith can't shoot. The only person who doesn't know that is Josh Smith. After improving his shot selection his last few years in Atlanta, Smith regressed to his old habits his first year in Detroit, taking over a fifth of his shots from beyond three point range while making only 26.4% of them. That is atrociously inefficient basketball. In the past five seasons, there is only one player who has shot more than 250 threes in a season while making less than 27% of them, and that player was Josh Smith this past year. Ew. When Smith plays small forward alongside Drummond and Monroe, his defender consistently sinks off him towards the paint, crowding the airspace of Drummond and Monroe.
In other words, when Smith plays on the perimeter with two traditional, non-shooting big men, he is a liability. Smith spent most of this season in Detroit as a perimeter player and finished with an Offensive Win Shares rating of -1.4. That means that Smith's offense took away 1.4 wins from his team. I mean, any time you can pay a guy $13.5 million to make your team worse, you have to do it right? When the three big men were on the court together, the Pistons' offense sputtered and their defense was even worse. It should come as no surprise that Joe Dumars is no longer with the Pistons.
Though he is a terrible outside shooter, when Smith plays close to the rim he performs at near elite levels. Smith shot 71% from within three feet of the hoop last year, a rate up near
LeBron James
territory. However, in order to get Smith down low he needs to be playing power forward. Smith doesn't have the body of a traditional 4, but his athleticism gives him mismatches against the larger, slower nominal power forwards who guard him. Smith has the size and strength to battle with most big men (
Zach Randolph
types are the exception) while also possessing the quickness and agility to score around them. This athleticism is largely wasted at small forward though, since it is hard to blow by a defender slacked six feet away. For Smith to be effective, he can't be on the wing. He absolutely needs to play power forward.
Unfortunately for him, that is something the Pistons do not need right now. Detroit's new head coach, Stan Van Gundy, has publicly stated that he thinks Drummond and Monroe are an "ideal pairing" and is seeking to give the two more minutes together. Van Gundy also stated that Smith would be playing primarily power forward this coming season in order to maximize his strong inside game. If Drummond and Monroe play the same number of minutes as they did last year, Smith is left with less than 30 at power forward after accounting for the minutes Detroit's other bigs will play. Smith is far too proud (and talented) to play less than 30 minutes a night, considering he hasn't averaged less than 32 minutes per contest since his rookie year.
This leaves the Pistons with a few choices. They could bite the bullet and play Smith at small forward, but that is a doomed strategy they know doesn't work. They could increase Smith's minutes at power forward at the expense of Monroe and Drummond's playing time but the organization is committed to developing them and would be reluctant to cut their minutes. A third option (and in my opinion the smartest) would be to trade Smith.
One year after signing with Detroit, Smith appears to be odd man out (RantSports)
The Pistons have been open
about their desire to deal Smith, but so far no trades have happened. ESPN's Marc Stein reported that the Pistons were in talks with Sacramento regarding the Kings sending a package including
Derrick Williams
and
Jason Thompson
in exchange for Smith. Thankfully for the Kings, these talks have died down. Pairing the volatile Smith with consistently grumpy
DeMarcus Cousins
would ruin any chemistry the Kings built last season. Not to mention, a starting front court of
Rudy Gay
, Smith, and Cousins would have spacing nearly as bad as Detroit's.
The Pistons are allegedly not asking for much in exchange for Smith, but teams around the league are loath to take on his gargantuan contract. A team that might consider doing so would be the Love-less Boston Celtics. After failing to trade for the Timberwolves'
Kevin Love
, the rebuilding Celtics find themselves with a ton of assets but no real talent and appear to be headed for another sub-par season. During the season, NBC Sports' Dan Feldman floated the idea of the Celtics sending
Gerald Wallace
and
Jeff Green
in exchange for Smith. Though that deal seemed reasonable at the time, I think the Celtics could get Smith for cheaper than that, especially since Smith would definitely cause a stink were he to be brought off the bench behind Drummond and Monroe, a strategy Van Gundy would likely employ.
If Boston offers Detroit a trade package of Gerald Wallace,
Jared Sullinger
, and Jared Sullinger's ass, who says no? Detroit would be out from underneath Smith's albatross of a contract and the Celtics would receive a top ten power forward to unite with star point guard Rajon Rondo. Wallace's contract is almost as undesirable as Smith's, but it becomes an expiring contract after this season and the Celtics would certainly have to include it in the trade in order to accommodate Smith's deal and remain under the cap. Sullinger is young and Boston likes him, but he is nowhere near the athlete Smith is and never will be. This deal could happen tomorrow and both teams would be improved.
It also helps that Smith and Rondo have expressed a strong desire to play together. The two were teammates in high school at Oak Hill Academy in Virginia and have remained close friends. Though both players have proven troublesome to coaches in the past, the pair's friendship might keep them both grounded. A starting five of Rondo,
Avery Bradley
, Jeff Green, Smith, and
Kelly Olynyk
might be enough for the Celtics to compete for a playoff spot in the decrepit East.
This deal won't happen of course, and that is because Celtics' GM
Danny Ainge
–along with most other GMs in the league-- understands that Josh Smith is a broken player. Smith can't shoot but for some reason refuses to stop. Were a coach to hypnotize Smith into finally believing he is a post player, he would be great. But $13.5 million a year is far too expensive a price tag for someone who might only be great under hypnosis. Ainge is too smart for that. Fortunately for Detroit, there are dumber GM's out there but in all likelihood, Detroit will end up stuck with Smith.
This will lead them to consider dealing a different one of their three bigs: Monroe. He has much more appeal around the league and is signed to a much more reasonable deal. Monroe is in the last year of a deal that will pay him around $5.4 million this year, a number that is well worth it for a quality center. Monroe has stated that he wants the max but Detroit doesn't have the resources to retain him on a big deal, especially since they are expected to give Drummond a huge contract extension soon. There has been a consensus around that league that Monroe is not worth the full max either. I would bet he ends up getting something in the neighborhood of 5 years, $70 million, a deal that would pay him slightly more than the Wizards just agreed to pay
Marcin Gortat
.
There are many teams around the league in need of a quality center like Monroe, but GMs are wary of taking on a player in the last year of a contract for fear he might bolt at the end of the season. A solution here for both sides could be executing a sign-and-trade. Detroit could sign Monroe to a deal and then promptly swap him to one of his many potential suitors. In exchange, the Pistons would probably expect quality wing help and maybe a pick or two. Atlanta, Orlando, and Portland are the three teams that have expressed the strongest interest in acquiring Monroe, again according to ESPN's Marc Stein.
Orlando makes sense. The Magic could use a reliable big man to pair with Nikola Vucevic and they have assets they could send to Detroit. Portland and Atlanta are a bit trickier to understand. Both teams already have solid centers that fit well within their systems in
Robin Lopez
and
Al Horford
. Adding a guy like Monroe to the mix would leave them with too many cooks in their proverbial kitchens, but sending one of their current centers back to Detroit would leave the Pistons in the same predicament they are already in.
The Pistons were not very good last year, and unless they sort out their frontcourt issues they are not going to be very good this year either. Van Gundy is a sharp basketball mind, but he won't solve Detroit's issues on his own. He'll need help from around the league because if Smith and Monroe both stay put this season, the Pistons will be hard pressed to improve. But Van Gundy's a smart man, and I'd wager a bet that he has something up his sleeve.