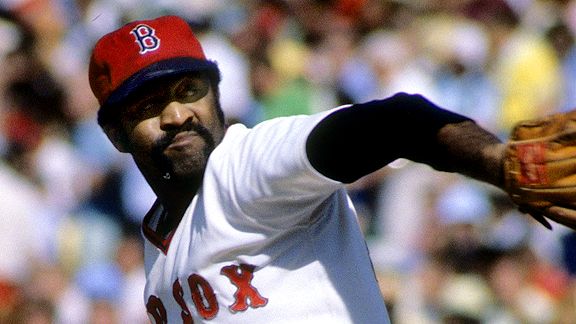 Tiant was one of the best pitchers of his time and all-time (ESPN)
With the Hall of Fame induction ceremony coming up this weekend and the Red Sox playing well (for now), I wanted to take a look at a pitcher who many feel was overlooked by the Hall, a pitcher who would undoubtedly go in wearing a Red Sox cap if he's ever enshrined.
I'm talking, of course, about Luis Tiant, a fan favorite and talented pitcher with Boston for much of the 1970s. El Tiante was a beloved figure in Beantown, where he revived his career in his 30s and emerged as that decade's equivalent of Roger Clemens or Pedro Martinez with the Sox.
But before I talk about Tiant's brilliant tenure with Boston, I think it's important to remember that he was a great pitcher long before he ever put on a Red Sox uniform. Purchased by the Cleveland Indians for $35,000 in the summer of 1961 (about $279,000 in today's dollars), Tiant earned a midsummer call-up to the Indians three years later. His first start was one of the most impressive debuts any pitcher has ever had, a four-hit shutout of the defending and eventual AL champion Yankees at the Stadium. He outdueled Whitey Ford in the second game of a doubleheader, fanning 11 Bombers (including Roger Maris twice) to earn the first of his 229 major league wins.
A star was born. The 23 year-old Tiant pitched well down the stretch, finishing his rookie year with a 10-4 record, 2.83 ERA and 1.11 WHIP, good for nearly four wins above replacement. He gradually got better in each of the next four seasons, lowering his FIP and walk rate every year while improving his K/BB ratio. The last of those seasons, 1968, was by far the best of his career. In addition to going 21-9, he led the American League in ERA (1.60), ERA+ (186), shutouts (9), FIP (2.04), and pitching WAR (8.4). He also had the lowest hit rate in baseball at 5.3/9, limiting opponents to a .168/.233/.262 batting line and posting a 0.87 WHIP. On top of all that, he racked up 264 punchouts in 258-and-a-third stellar innings, part of his 3.62 K/BB ratio. Fun trivia fact: Tiant was the Junior Circuit's starting pitcher in that year's All-Star game. Not so fun fact: Tiant failed to receive a single Cy Young vote that year (but yet finished fifth in the MVP voting).
Tiant's masterful 1968 season is one of the great seasons forgotten to history. Because it coincided with the Year of the Pitcher, a season that saw Denny McLain win 31 games, Bob Gibson compile a 1.12 ERA and Don Drysdale hurl 58 consecutive scoreless innings, Tiant had a hard time standing out above the crowd/making noise for an also-ran Indians team.
Not yet 28 at the end of his big breakout campaign, Tiant had established himself as one of the premier pitchers in baseball. With 23 WAR already under his belt, he'd been one of the American League's five most valuable pitchers since breaking in. Furthermore, he'd done nothing but improve over his first 1,000 big league innings. No one could have foreseen that in three short years, he would very nearly be out of baseball.
1969 was a terrible year for Tiant and the Indians, who went from third place and 86 wins in '68 to 62 wins in 1969. Cleveland finished last in the newly minted AL East, 18 games behind the next-worst team (New York). Tiant tumbled to 9-20, leading the majors in losses, walks, and home runs allowed. Overnight, Tiant had gone from the American League's best pitcher to one of the worst in baseball.
He was gone before Christmas. The Indians whisked him away to Minnesota along with Stan Williams in return for Dean Chance, Graig Nettles, Bob Miller, and Ted Uhlaender, a trade that would have worked out wonderfully for Cleveland had a) Chance not fallen apart the second he got there and b) they'd held on to Nettles for more than three years.
Tiant must have been excited to escape the moribound Indians and land with a first place club in Minnesota. He flourished in his new digs, going 6-0 with a 3.12 ERA in his first 10 starts with the Twins before a fractured right scapula derailed his bounce back season. Tiant missed more than two months, and while he returned in time for the stretch run he wasn't quite the same. His first taste of the postseason was a bad one; mop-up duty in Game 2, in which he recorded two outs only after surrendering a two-run homer to Davey Johnson. He did not pitch again in the series, as Minnesota was swept the next day.
The injury that had ruined Tiant's first year with the Twins now jeopardized his once-promising career. After an ineffective and injury-plagued spring training, the 30 year-old was unconditionally released. His playing days appeared to be numbered. A couple weeks later the Braves picked him up for a 30 day trial with their Triple-A affiliate in Richmond, and at the end of the 30 days decided he was not worth a major league roster spot. That two teams had given up on him in the span of six weeks didn't discourage the perpetually pitching-strapped Red Sox from scooping him up two days after Atlanta cur him loose. It turned out to be one of the best decisions they've ever made.
A finally healthy Tiant returned to form in Boston (Bostinno)
Tiant's stint with the Sox lasted eight seasons, during which time he won 122 games with a 3.36 ERA, made two All-Star teams, piled up 36.4 bWAR and finished in the top-six of Cy Young voting three times. It was during this time that El Tiante
earned a reputation as one of baseball's best big game pitchers. He was phenomenal throughout the pennant races of 1972, 1974 and 1978, pitching valiantly for Red Sox teams that were always coming up just short. Though Tiant struggled during the one pennant race Boston did win, he was at his absolute best in that year's wild postseason. After firing a complete game shutout against the three-time defending World Series champs in Game 1 of the ALCS, Tiant came back one week later and spun another shutout in the first game of the World Series against the vaunted Big Red Machine. He again went the distance in Game 4 to even the Series. He finally ran out of gas in Game 6, but luckily for him Bernie Carbo, Dwight Evans and Carlton Fisk had some late-game heroics up their sleeves.
After the heartache of '78 Tiant, by then 38 and desperate for a ring, defected to the Yankees via free agency. Nobody could blame him for latching on with the winners of the last three American League pennants and two World Series. The irony, though, is that the streak ended as soon as Tiant donned pinstripes. New York finished fourth in 1979, Tiant's last good season, and would not win another title until 1996, by which point Tiant was closing in on 56. He was a great old pitcher, but nobody, not even Tiant, could hang around that long. He hung up his spikes for good after 1982 after 19 seasons and nearly 3,500 regular season innings. He has since been inducted into the Red Sox Hall of Fame and Hispanic Heritage Hall of Fame, but still waits for the call from the only Hall of Fame anyone actually cares about, as in the one located in upstate New York.
Now, did what El Tiante accomplish during that time merit a plaque in Cooperstown? The writers voted unequivocally no. Tiant stayed on the ballot for all 15 years of eligibility, but only in his first year did he receive more than 20 percent of the vote. After that, he was never really a serious candidate. Should he have been?
It's easy to make the case that the answer to that question is no, that he was a Hall of Very Good pitcher who was more style than substance. Tiant never won a Cy Young award, finishing no higher than fourth and drawing votes in only three seasons. He made only three All-Star teams. His rate stats are all good but not great. Though Tiant paced AL pitchers in WAR in '68, many would say McLain had the better year, meaning Tiant was never the best pitcher in his league, let alone the game. With only three seasons among the league's five most valuable pitchers, he didn't dominate. And sure, he was great in the postseason, but how many World Series did he win? Mickey Lolich was more or less Tiant's equal, and one doesn't hear many clamoring for him to make the Hall of Fame. In fact, seven of Tiant's 10 best statistical comps are currently outside the Hall and none are currently up for election.Many of his seasons were mediocre, with nine of his 19 years rating between below average to barely above average based on ERA-.
But Tiant, even if he does fall short on Black Ink, Gray Ink, the Hall of Fame monitor and Hall of Fame standards, does have a strong statistical case. He was the American League's third-most valuable pitcher when he played, behind only Bert Blyleven (Class of 2011) and Lolich, the latter a respected member of the Hall of Very Good. Expand the timeframe from 1951 through 1990, a stretch of 40 seasons, and Tiant still ranks as the league's fifth-best pitcher. Better than Jim Palmer, Gaylord Perry, Catfish Hunter, and the man he beat in his first big league start. What's more, three of his six closest comps are already in the Hall. With over 66 career bWAR, Tiant is very much a viable candidate for Cooperstown. By the standards of the Hall of Stats, he makes it in comfortably.
JAWS rates him 51st all-time among starting pitchers. Remove the guys who started their careers before 1900, and Tiant's one of the 50 best starting pitchers of all-time. Seeing as how he ranks 21st in shutouts, 39th in strikeouts, and 40th in pitching WAR, I buy that. Though he's a bit below the established standards for peak and longevity, he still comes in ahead of luminaries such as Jim Bunning, John Smoltz, Don Sutton, and Early Wynn. It does concern me that of the 59 starters already in the Hall, including Greg Maddux and Tom Glavine, Tiant outranks just 13 of them. He rates lower than Wes Ferrell, Kevin Brown, and Rick Reuschel, among others.
The two things I look for in a Hall of Fame case are a peak and longevity. Tiant obviously had good longevity, as he pitched until he was almost 42 and made close to 500 big league starts. He had eight seasons with more than 200 innings, three more than just missed and four others with over 100. 11 times he made 29 or more starts in a season.
As for peak, well, Tiant technically had two peaks. He had his five-year run with Cleveland, which wasn't so much a peak as it was one amazing season preceded by several good ones. Then there was his second prime, covering his last seven seasons with Boston and his first in New York. In both cases he was one of the league's five-best pitchers for an extended period of time (40 years, in fact, as I noted a few paragraphs before). And as one of baseball's 50 best since 1900, which gets narrowed to 25 if you exclude those who debuted before Jackie Robinson, then it becomes pretty clear that Tiant is indeed Cooperstown-worthy. I'd say there are more-deserving pitchers still waiting to be inducted (Clemens, Curt Schilling, Mike Mussina, and the aforementioned Brown come to mind), but Tiant at least deserves another look from the Veteran's Committee. The BBWAA has not done a great job of electing starting pitchers who aren't slam-dunks, leaving recent generations of pitchers poorly represented in the Hall. It's up to the VC to rectify those mistakes.
I'll admit I wasn't totally sold on the idea of Tiant as a Hall of Famer when I started writing this, but after taking a closer look I think I'd give him a pass. He had five truly great seasons--1968, 1972-1974, and 1976--and enough success in other years (his first few with Cleveland a few more in the late '70s). Throw in his celebrity status in Boston and his track record of success in big games (which, unlike Jack Morris, extended beyond one game) and I think he did just enough to get over the top.
It's a really tough call though, and if you check back with me tomorrow I might not feel the same way.