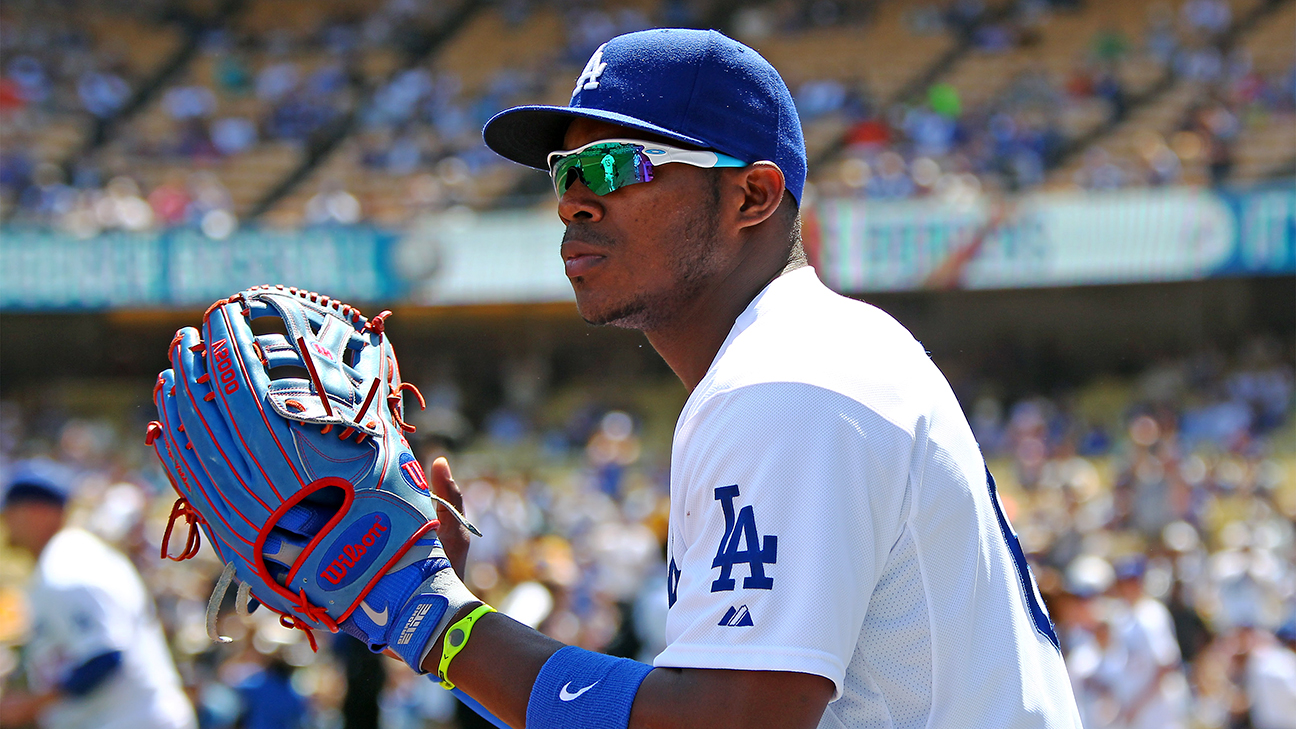 What would the All-Star Game be without Puig? (ESPN)
With voting wrapping up on Thursday (
you can view the standings here
), it's time for me to unveil my National League All-Star ballot. Like most years there were a few easy choices, but also some very difficult decisions, especially in the outfield, but I did my best to pick the best players at each position. If you don't agree with me, just let me know in the comments section and we can stir up a great debate. Enjoy, don't forget to vote, and check back tomorrow for my American League picks!
C
Jonathan Lucroy
Yadier Molina
leads Lucroy, the runner-up, by almost 500,000 votes even though a) Molina's numbers are way down compared to where they've been the last three years, and b) Lucroy's clearly been the
best catcher in baseball this year
. In addition to batting a
Joe Mauer
-ish .334/.403/.515, Lucroy leads the National League in doubles and has as many walks (34) as strikeouts. At the rate he's going, the Brewers backstop is on pace to finish the season with close to 200 hits, 50 doubles and 8 bWAR. With 4.2 bWAR already, he's been the league's third-most valuable player to date and his big bat is a big reason why Milwaukee's perched atop the NL Central. Lucroy's never been an All-Star before, but he deserves to be one this year.
1B
Paul Goldschmidt
The Diamondbacks stink, but that's hardly Goldschmidt's fault. He's been the National League's
most valuable first baseman
per fWAR, with numbers just a tick below last year's (when he was MVP runner-up to
Andrew McCutchen
). Goldy's 28 doubles are tied with Lucroy for the league lead. His 43 extra base hits are tops, and he also ranks second in runs scored, third in RBI, total bases, and slugging percentage, and fourth in walks and runs created, making Goldy an easy choice for his second straight All-Star nod. The fans seemed to realize this as well, as they've cast more than one million votes for him than any other NL first baseman.
2B
Chase Utley
Now 35, Utley hasn't been an All-Star since 2010 as age and injuries have hampered his once-elite skills. Fully healthy this year, he's put together a first half that's All-Star worthy. Currently batting .293/.353/.450 with 33 extra base hits and about 2.5 WAR, Utley's been just a touch better than his closest competition, Mets second baseman
Daniel Murphy
. who has nearly identical numbers. I give the slight edge to Utley for his superior pop and defense, not to mention name recognition as a former perennial All-Star and MVP candidate. The fans have certainly rallied around Utley, as he's recorded almost one million more votes than runner-up
Neil Walker
(Murphy didn't even crack the top-five).
3B
Todd Frazier
Aramis Ramirez
will win the fan vote even though he missed three weeks and was hitting poorly prior to his DL-stint. It should be Frazier, a distant fifth with nearly 600,000 fewer votes than A-Ram even though he leads NL third basemen in a
slew of offensive categories
, including big flies (only
Josh Donaldson
has more at the position this year), slugging, OPS, wRC+, wOBA, and fWAR. He's also stolen 12 bases, already doubling his career high of six set last year. Throw in the fact that Frazier's only missed two games thus far (to Ramirez's 26), and it becomes pretty clear that the Senior Circuit's starting third baseman should be representing the Cincinnati Reds.
SS
Troy Tulowitzki
The major league leader in runs, batting average, OBP, OPS, and bWAR has been the most valuable player in baseball so far, barely edging out
Mike Trout
and
Giancarlo Stanton
, both of whom have been worth five on the nose. The National League's leading vote-getter is also pacing the Circuit in slugging and runs created.
OF Giancarlo Stanton
Neck-and-neck with Tulowitzki in terms of bWAR, Miami's slugging right fielder leads not just Tulowitzki, but the entire National League in home runs, RBI, total bases, extra base hits, and AB/HR Young Stanton also ranks second in slugging, OPS, adjusted OPS, runs created and, as previously mentioned, bWAR. But seeing as how he trails third-place
Yasiel Puig
by over 300,000 votes, he'll have to settle for a reserve role in his second All-Star appearance.
OF Andrew McCutchen
The defending NL MVP is in the midst of another terrific season, leading the National League in walks and times on base. Pittsburgh's gifted center fielder ranks as the National League's fifth-most valuable player per bWAR on the strength of his big bat (.943 OPS/166 OPS+) and smart baserunning (12 steals in 12 attempts), even if his defense leaves something to be desired. A fourth straight trip to the All-Star Game should be in order for 'Cutch, who narrowly leads
Carlos Gomez
in the outfield vote.
OF Yasiel Puig
Hate to leave out Carlos Gomez, and this was a really tough call considering how similar their numbers are, but Puig's performance has been more impressive on a park-adjusted basis. His raw OPS is already 17 points better than Gomez's, but after accounting for their home park differential (Puig plays in a pitcher's paradise while Gomez reaps the benefits of a hitter's park), the difference becomes somewhat more pronounced. Puig's 162 wRC+ tops Gomez's 152 mark. And while Gomez has been a bit more valuable (roughly half a win) by both FanGraphs and B-R's WAR calculations, there's no getting around the fact that Puig is a more electrifying player to watch. The All-Star Game was made for people like him.