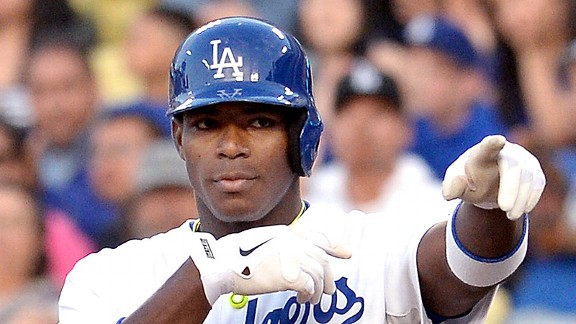 Last year as a 22 year-old rookie,
Yasiel Puig
played 104 games. This year as a 23 year-old sophomore he's played 104 games so far, and the results have been...almost identical. Still the same awesome numbers, electrifying throws, and
jaw-dropping bat flips
. Still the same shaky defense, baserunning errors and
Robinson Cano
-esque lapses in focus that lead to boneheaded mistakes
like this one
.
But when you're a superstar rookie, as Puig was, then staying the same is hardly a bad thing. Certainly not when you put up numbers like these:
First 104 games: 432 PA 122 H 19 HR 42 RBI 11 SB .319/.391/.534 159 OPS+ 4.9 bWAR
Last 104 games: 447 PA 123 H 13 HR 55 RBI 7 SB .313/.400/.540 165 OPS+ 4.0 bWAR
Puig's done well to improve as a hitter by boosting his walk rate and cutting down his strikeouts. Now if he could just make similar strides in his baserunning and fielding, he'd be the National League's answer to
Mike Trout
.