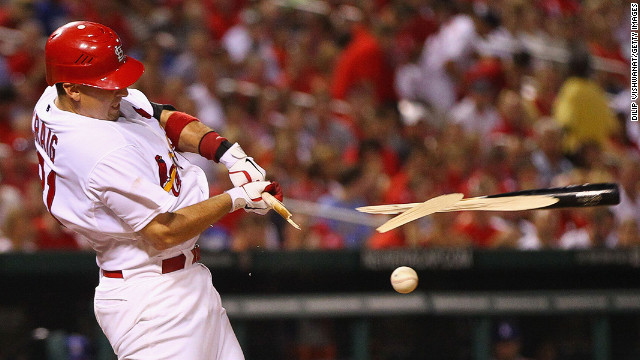 Once an elite hitter, Craig has struggled at the plate this year (CNN)
Mere hours after trading
Jon Lester
and
Jonny Gomes
to Oakland for
Yoenis Cespedes
on deadline day, the Red Sox dealt their next-best starting pitcher--
John Lackey
--to St. Louis for another outfield bat (
Allen Craig
) and starting pitcher
Joe Kelly
, both of whom competed against Boston in last fall's World Series.
A ground ball pitcher who doesn't strike anyone out, Kelly is a back of the rotation starter at best. Boston will need him to fill in now that 80 percent of its Opening Day rotation is gone, but once the young guns are ready he'll likely be ousted to the bullpen. Though
not a difference maker
by any means, Kelly is only 26 and won't reach free agency until 2019. That makes him an attractive trade chip, if not someone worth keeping around.
Craig, an All-Star last year and hard-hitting outfielder until recently, would seem to be the bigger get. He was a terrific hitter in the three years before this one, batting over .300 every year, reaching base more than 36 percent of the time and slugging .500. His 139 wRC+ during that span was the
eighth-highest among outfielder
s, sixth after excluding American Leaguers
Mike Trout
and
Jose Bautista
. He twice received MVP consideration while averaging 40 doubles, 23 home runs, and 114 RBI per 162 games from 2011 through 2013.
But Craig can't stay healthy. He's never played 135 games in a season, let alone all 162. He's endured several lower body injuries over the years, including a fractured knee in 2011 and foot last injury year that combined with age have limited his mobility and apparently his power. His fly ball rate and home run per fly ball rate are both at career lows, and he's pounding the ball into the ground more than half the time he puts the ball into play--a horrible strategy for someone with no foot speed.
So unfortunately for Boston, Craig appears to be a player in decline. His slugging, OPS and ISO have fallen every year since 2011, a trend that has coincided with increased playing time as well as age, thus suggesting that he's unable to . His walk rate has declined the last two years including this one, and his strikeout rate has gone the other way. This year's been a disaster for Craig, who didn't get his average over .200 until the last day of April, went homerless in June and recorded just six hits in 16 July games.
Craig's been healthy this year and had a full offseason to recover from his ankle sprain, so there's really no excuse for his poor performance. His BABiP has plunged more than 80 points from last year and 50 points below his career mark, which suggests some bad luck, but that's also due to his line drive rate falling from almost 27 percent last year to below 20 percent this year. Craig''s just not hitting the ball with the same authority, and the results have been
Billy Butler
and
Derek Jeter
-esque.
Craig,
who signed an extension with the Cardinals
before last season, will be under team control through 2017 and has an option for 2018. But if his best days truly are behind him and he's going to stay the same or get worse, then he'll be horribly overpaid as his salary escalates over the next few years, especially in 2016-2017 when he's set to make $20 million. And he can forget about his 2018 player option that would net him an additional $13 million.
Could Craig rebound in Boston? It's not out of the question. Barely 30 years old, he's not far removed from his prime and could easily bounce back, especially now that he's playing half his games at Fenway Park. ZiPS and Steamer both project him to finish the season strong, with ZiPS predicting him to bat .278/.330/.440 the rest of the way and Steamer even more optimistic at .295/.348/.470. The offenseively challenged Red Sox are hoping he can turn it around and get back to his old ways, which would give them another run-producer and lengthen the lineup.
But even if Craig does there's really no place for him. He can man left field for now with Yoenis Cespedes covering for
Shane Victorino
in right, but that's about the only place he can play. His range is too limited to patrol Fenway's expansive right field and the Red Sox already have expensive and productive regulars at DH and first base in
David Ortiz
and
Mike Napoli
. Once Victorino comes back Cespedes would likely move to left to accomodate him, though it's possible the Flyin' Hawaiian goes back to center given
Jackie Bradley
, Jr.'s offensive woes.
Craig could be the odd man out soon, and needs to hit to carve out out playing time for himself. These next two months are essentially an audition for him. If he can get his swing right,
John Farrell
will find a place in his lineup card for a bat with .300-20-100 potential. But the Red Sox have made it clear that they want to give more playing time to their young stars, which means they won't have much patience for a washed up corner outfielder/first baseman on the wrong side of 30. Should Craig continue to struggle, expect him to be somewhere else come Opening Day.