Jim Thome
, the most recent member of baseball's
600 home run club
and eighth to join,
announced his retirement yesterday
after signing a one-day contract with the Cleveland Indians, marking the end of his incredible 25 year baseball journey.
Thome, who last played in 2012, came full circle by going out with Cleveland, the team that drafted him in the 13th round of the 1989 amateur draft. Two years later he was in the big leagues for a cup of coffee, a September call-up who on October 4th launched the first of his 612 career home runs, taking
Steve Farr
of the Yankees deep at the Stadium.
It didn't take long for Thome's trademark power and batting eye to emerge, and by 1994 he was the club's everyday third baseman. Despite the player's strike he still managed to pop 20 homers, something he would do in every season but one through 2010. A key member of the great Indians squads of the 1990s, Thome won his first and only Silver Slugger at the hot corner in 1996 before moving across the diamond the following year to accomodate
Matt Williams
. Thome responded with his first 40-homer season and All-Star appearance, the first of six and five, respectively.
While more than half of Thome's regular season home runs would come in an Indians uniform (his 337 with Cleveland are a franchise record, nearly 100 more than second place
Albert Belle
's 242), all of his postseason long balls benefitted Cleveland. A dynasty that never was, the Tribe made the playoffs six times from 1995 through 2001, reaching the World Series twice but losing both times. A driving force behind those great teams, Thome compiled some impressive playoff statistics along the way. The 6'4, 250 pound behemoth cranked 17 home runs (tied with
David Ortiz
for seventh all-time) and knocked in 36 over the course of 11 different postseason series with Cleveland, showcasing his monster power on the game's biggest stage. Unfortunately for him and through no fault of his own, the Indians were unable to win the big one. Thome would go on to play in four postseasons after leaving Cleveland, but never again would he come to bat in the World Series or go yard in a playoff game.
Thome left Cleveland after the 2002 season--the best of his career--in which he batted .304/.445/.677 with 52 homers, 118 RBI and 122 walks, good for 7.4 bWAR, a league-high 197 OPS+ and a seventh place finish in the AL MVP voting. Thome capitalized, parlaying those monster numbers into a six-year, $85 million deal with the Phillies. He continued to produce huge power numbers in Philly, tying
Alex Rodriguez
for the major league lead in home runs with 47 in 2003 and belting 42 more the year after that. In 2005 he had his first off year, starting slow out of the gates and then getting hurt before he was shut down for the season in August. His replacement, a young but equally large slugger named
Ryan Howard
, came up and smashed 22 big flies in roughly half a season, enough to win NL Rookie of the Year honors and convince Phillies management he was the first baseman of the future.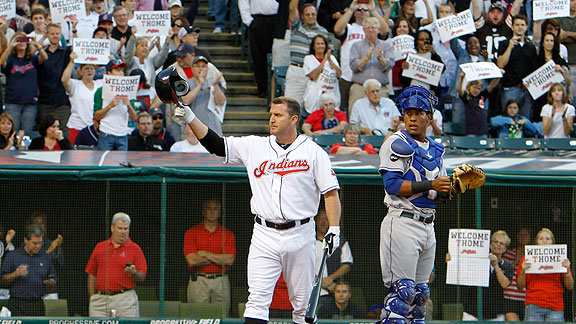 Thome was traded to the White Sox, where he won AL Comeback Player of the Year and made his last All-Star appearance in 2006, reaping the benefits of the homer-friendly U.S. Cellular Field. Late in the 2009 season he was traded to the Dodgers, who were seeking a big bat for the stretch run. He did nothing with LA, bounced back to have one last big season in 2010 with Minnesota (25 home runs, 1.039 OPS), and after that was basically a spare part. He played his last game as a member of the Baltimore Orioles, with whom he crushed his 612th and final career home run on September 26th, 2012 at the age of 42. Though Thome was limited to part-time duty in his final few seasons, he remained an effective hitter to the end because of his power and on-base ability. After his disastrous 2005 season, Thome's OPS+ never dipped below 112.
After spending his first dozen seasons with Cleveland Thome bounced around a lot, changing teams seven times in the second half of his career and even returning to the Rock and Roll Capital of the World briefly in 2011. Nevertheless, he left a tremendous legacy with his original team, where he's tops in home runs and walks and top-five in most offensive categories.
But Thome is more than one of the greatest Indians of all-time: he's one of the
best sluggers in baseball history
. An offensive force for two decades (think
Harmon Killebrew
with longevity), Thome is absolutely a first-ballot
Hall of Famer
. There are the 612 home runs, of course (not including the 17 he hit in the postseason), a record for first basemen and seventh-most all-time. He knocked in nearly 1,700 runs and scored almost 1,600 others. He reached base 4,144 times, more than
Jimmie Foxx
,
Rod Carew
, and
Reggie Jackson
. His .956 career OPS is the 18th-highest mark in baseball history. He ranks 24th all-time in slugging percentage and RBI, 23rd in runs created, and 20th in extra base hits. His 13.8 AB/HR ratio has been bettered by three men;
Mark McGwire
,
Babe Ruth
, and
Barry Bonds
.
Still not convinced? He had eight seasons with at least 30 dingers and 100 runs, walks, and RBI, two more than
Albert Pujols
and
Stan Musial
combined
. From 1994, Thome's first full season, through 2012, he outhomered everyone not named Alex Rodriguez (an admitted steroid user) and walked more often than anyone besides Barry Bonds (also juiced). Only Rodriguez and
Manny Ramirez
, both busted PED offenders, piled up more RBI. A-Rod,
Derek Jeter
,
Johnny Damon
, and
Chipper Jones
were the only ones to score more runs. Per JAWs, Thome's one of the ten-best first basemen of all-time, with virtually the same number of bWAR that
Frank Thomas
accumulated in his career. The Big Hurt, who actually spent more time as a DH, just
sailed into the Hall
on his first try with over 90 percent of the vote.
Thomas is actually a very good comparison for Thome and comes up as his second-best comp after
Sammy Sosa
. Their careers overlapped for many years and they both reached the 500 home run milestone in 2007, each without a whisper of PED use despite their huge power numbers in the heart of the steroid era. Thome had better luck with injuries and so he lasted a little longer, but as you can see their numbers are very similar:
Thomas 1990-'08: 10,075 PA 521 HR 1,704 RBI 1,667 BB .301/.419/.555 156 OPS+ 73.7 bWAR
Thome 1991-'12: 10,313 PA 612 HR 1,699 RBI 1,747 BB .276/.402/.554 147 OPS+ 72.9 bWAR
Thomas was better than Thome, but only by the slimmest of margins. In Fact, JAWs has Thomas as the ninth-best first baseman of all-time and Thome barely behind him at tenth. So if Thomas truly is a deserving first ballot Hall of Famer (which he is), then Thome has to be, too. He's just as worthy of that honor as he is of the new
eight-foot bronze statue
at Progressive Field.