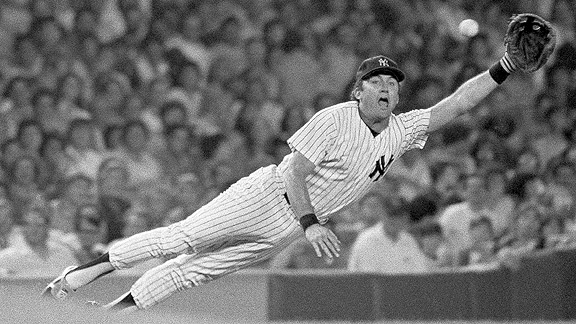 Longoria is following in Nettles's footsteps (ESPN)
The more I think about it, the more
Evan Longoria
seems like a modern-day
Graig Nettles
to me, or at least a superior version of Nettles.
Think about it: they're basically the same player. Neither one hit for great average or had much speed, but both have above average on base skills because they walk a good amount. Both have good power, typically settling for around 20 homers and 90 RBI per season. Both have seen their numbers stifled by the pitching-dominated environments in which they play: Nettles spent most of his 22-year career in a wasteland for hitters (1967-1988) while Longoria has been victimized by the new Deadball Era, not to mention played half his games in the offense-suffocating Trop. For the most part they've been pretty durable, too.
Defensively, both are terrific. Nettles won two Gold Gloves and probably deserved a lot more, seeing as how B-R says his glove was worth nearly 21 wins over the course of his career (FanGraphs more or less agrees and has him at 18), though he was overshadowed by
Brooks Robinson
early in his career. Longoria also has a pair of Gold Gloves and has accrued the
most defensive value
of any third baseman since 2008, the year he broke in. His slick fielding combined with his elite bat has made him the best all-around third sacker during that span. He's been better than
Adrian Beltre
even, something I feel that most people don't appreciate.
Nettles had two top-six finishes in the MVP voting. Longoria also has two top-six finishes, though with admittedly more time to add more. Both came up with big hits in the postseason though their overall playoff numbers aren't great.
Nettles, of course, was a great player for a very long time; a
borderline Hall of Famer.
Longoria, with almost 40 bWAR through his age 28 season, is well on his way. Though this year's been a bit of a struggle for him, he's remained healthy enough to play everyday and so his numbers will turn out alright. He was so good so young anyways that he really only needs a couple more big seasons to cement his Hall of Fame case, and seeing how
he's signed through 2022
that shouldn't be too hard to do.
Nettles was very nearly a Hall of Famer, and Longoria's better than him. Few players play past 44, as Nettles did. But health and luck permitting, Longoria won't turn out to be the next
Scott Rolen
.