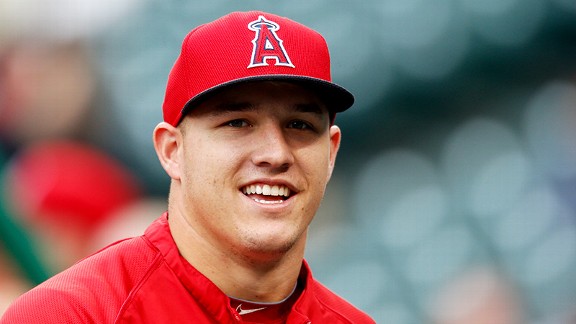 Trout will win AL MVP even though his batting average isn't exceptional
While the
debate's been raging
over who deserves to be the National League MVP this year (clearly
Clayton Kershaw
), the American League's outcome has been a
foregone conclusion
for months. This is the year
Mike Trout
wins his first (should be third) MVP award.
What's interesting about that is that he batted "only" .287, well above the league average but also considerably below historical standards established by previous MVPs. I know batting average is not a great statistic, but I couldn't remember the last time someone won with a sub-.300 average. So after doing some research on Baseball-Reference, I found that there hasn't been an MVP with such a low average since 1987, when Andrew Dawson walked away with the NL trophy after leading the majors with 49 home runs and 137 RBI. In retrospect
Dawson was a poor choice
(
Tony Gwynn
,
Jack Clark
,
Will Clark
, and
Darryl Strawberry
had better cases), but here Trout is very clearly the right choice.
In fact, the last time anybody won MVP without hitting .300 was
Jimmy Rollins
in 2007 (
another poor choice
). It hasn't happened in the American League since 2003, when
Alex Rodriguez
finally won his first (like Trout, A
-Rod's was long overdue
).
I think it's telling that the best player in baseball isn't even a .300 hitter. It says a lot about how far we've come in terms of valuing players. It also speaks to league-wide declining averages due to rising strikeouts, more emphasis on defense, and more frequent shifts. It blows my mind that Trout, a phenomenal hitter with great speed, didn't even crack .290.
Not that it matters
, of course.