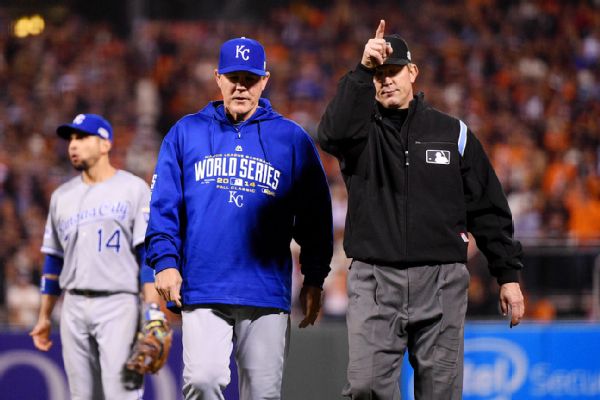 The Royals appeared to have the series well in hand, until the Giants came back (ESPN)
When the San Francisco Giants inevitably win this World Series, we will point to the second half of Game 4 as the moment when it all fell apart for the Kansas City Royals, just as one looking to explain Detroit's collapse in last year's ALCS need only mention
David Ortiz
's series-shifting grand slam off
Joaquin Benoit
.
Because the Giants, for all intents and purposes, were toast. Done. Finished. They entered the bottom of the fifth inning of Game 4 down 4-2 in the game and 2-1 in the series. It goes without saying that if San Francisco loses that game their season's essentially over, because they have to beat
James Shields
in Game 5, then travel to Kansas City and win back-to-back games on the road. No way they were winning three straight against a team that began this postseason 8-0.
So San Francisco, with its back basically to the wall, rallied. More than that, the Giants
exploded
for nine runs, all against a Kansas City bullpen that had previously been untouchable. San Fran scored two in the fifth to tie it, three in the sixth to pull ahead, and four in the seventh to put the game out of reach. When the smoke cleared at game's end, the home team had pounded the Royals for 11 runs and 16 hits, equaling their run total from the series' first three games.
Now, with the series even at two games apiece and their ace,
Madison Bumgarner
, on the mound tonight, the Giants have new life. They have the best pitcher in the series going for them, one who has been nothing but filth these playoffs (1.40 ERA in five starts). The 25 year-old southpaw is on such a roll right now that he can't lose, nor will he in the most important game of the season. Bumgarner, like
Josh Beckett
and
Curt Schilling
before him, is going to come through for his team when they need him the most.
The same can't be said about Shields, who's tarnished his "Big Game" nickname with his recent lackluster performance. He was
battered in Game 1
to the tune of five runs and seven hits in three innings, spiking his 2014 playoff ERA to 7.11 and his career postseason mark to 5.74. Shields is better than that and still the best starting pitcher Kansas City has, but if I'm
Ned Yost
or a Royals fan I definitely don't feel too great about my chances tonight.
The irony is that Shields was brought to Kansas City for precisely this moment; a must-win playoff game. Dayton Moore was willing to give up
Wil Myers
to have Shields available for a game like this. But with the Royals in their first postseason since 1985, Shields has been more of a detriment than asset. The free agent-to-be has the chance to redeem himself tonight, in what will most certainly be the final game he ever pitches for the Royals. But if he gets shelled again, then the Royals' losing the World Series is going to be on him, and Moore's going to have to live with the fact that he traded Myers for the wrong guy.