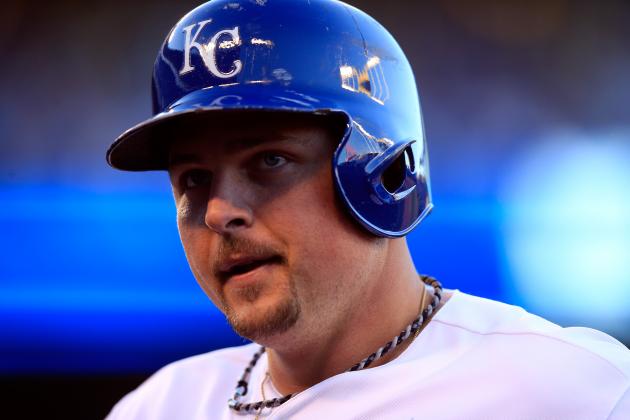 Billy Butler came up big for the Royals with a pair of RBI singles (BleacherReport)
After getting pounded 7-1 by the San Francisco Giants in Game 1, the Kansas City Royals responded with a 7-2 victory in Game 2 to even the World Series at one win apiece.
Though the scores of the games were nearly identical, they played out very differently. Game 1 was all Giants from the outset, as they jumped all over
James Shields
for three runs in the first and led the entire game. San Francisco was in control from start to finish. Game 2, at least through the first five innings, was closely contested.
Once again the Giants drew first blood, this time on a
Gregor Blanco
leadoff homer. Unfazed,
Yordano Ventura
regained his composure and set down the next three Giants in order. Kansas City responded with a run of its own in the bottom half to knot the score at one on a Billy Butler RBI single. The Royals took their first lead of the series the following inning when
Alcides Escobar
doubled home
Omar Infante
. After a scoreless third, the Giants evened the score at two-all in the top of the fourth on
Brandon Belt
's RBI double.
The score remained 2-2 until the bottom of the sixth, when Kansas City blew the door down with a five run frame. Giants' starter
Jake Peavy
was still dealing (Ventura had departed in the top half), but
Bruce Bochy
quickly lifted him from the game after
Lorenzo Cain
singled and
Eric Hosmer
walked to begin the inning. Four pitching changes later, and the Royals had themselves an improbable 7-2 lead. Butler singled Cain home for the go-ahead run, putting Kansas City ahead for good. Following an
Alex Gordon
fly out,
Salvador Perez
provided some insurance with a two-run double, preceding Infante's back-breaking two-run shot that finished the Giants.
San Francisco was unable to scrape anything together in the final innings as the Royals went on to win 7-2. The series shifts to San Francisco for Game 3 on Friday night, which will feature
Jeremy Guthrie
against
Tim Hudson
. As well as Guthrie pitched in his ALCS start against Baltimore (five innings, one earned run, three hits and two walks allowed) I have to give the edge to Hudson. Huddy's had the better year, the better career, and has the advantage of pitching at home, where he was slightly more effective this year with a 3.76 K/BB ratio, 1.21 WHIP and .704 opponents OPS compared to 3.29, 1.25 and .720 on the road. Expect the Giants to bounce back on their home turf in Game 3.