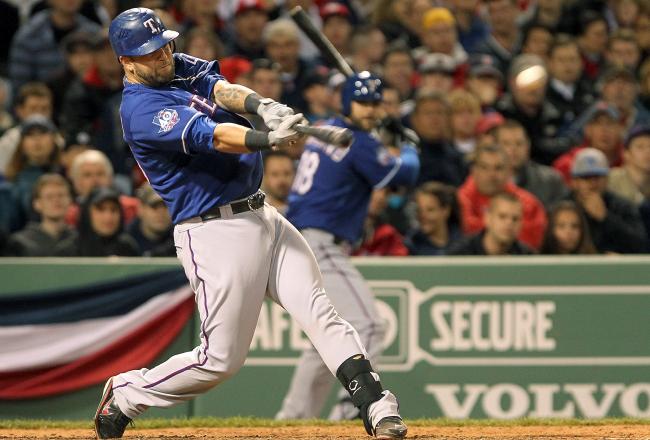 Red Sox fans will enjoy watching Mike Napoli rake at Fenway next year
The Boston Red Sox made their first major free agent signing this offseason by acquiring Mike Napoli for three years and $39 million
Boston's front office targeted the former Ranger weeks ago and wasted no time sealing the deal with him on the first day of baseball's winter meetings. It's easy to see why they coveted him so badly; Napoli is a) affordable and b) one of the best right-handed power hitters in the game. Since 2008 he's socked at least 20 home runs each season while slugging .522 and posting a robust .257 ISO. Over that span he owns the third-highest HR/AB ratio behind only
Jose Bautista
and
Albert Pujols
. He's on the wrong side of 30 and has played more than 114 games just once (in 2010--his last year with the Los Angeles Angels), but moving from catcher to first base should help keep his bat in the lineup.
Expect the 2012 All-Star to continue producing strong numbers in Boston, where he can take advantage of Fenway Park. He's a .306/.397/.710 hitter with seven long balls in his 17 games there and will enjoy taking aim at the Green Monster for the next several seasons. Surprisingly, the Red Sox have lacked a legitimate righty slugger since
Jason Bay
helped lead them to their most recent postseason appearance in 2009 (
Dustin Pedroia
and
Kevin Youkilis
don't count). Boston's lineup has become too lefty-dominant in recent years, but Napoli will provide balance. Interestingly, Napoli batted behind
David Ortiz
in last summer's All-Star Game, and could very well be protecting Big Papi next season depending on how
John Farrell
fills out his lineup card.
More importantly, this deal
fills the void
at first base created by the
megatrade
that sent
Adrian Gonzalez
,
Josh Beckett
,
Carl Crawford
and
Nick Punto
to the Los Angeles Dodgers last summer and shed more than $260 million in future salary commitments. It's good to see GM Ben Cherington put some of that freed-up salary to good use. He's already re-signed
David Ortiz
and brought in
Jonny Gomes
and
David Ross
, all on two-year deals. Cherington's aversion to long-term contracts makes the Red Sox unlikely candidates to sign either
Josh Hamilton
or
Zack Greinke
, both of whom expect to receive lengthy nine-figure contracts.
That's okay. Cherington has stressed the need for more discipline, and so far he's practiced what he preached. His next moves should be shore up the outfield by bringing back
Cody Ross
and signing
Nick Swisher
. Both are hard-hitting outfielders who double as positive clubhouse presences.
After the dysfunctional season Boston just had, this team could certainly use a few of those.