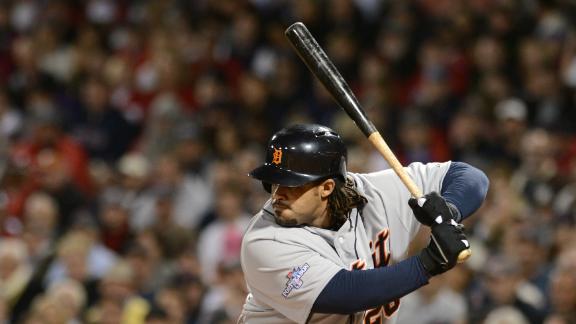 Fielder will likely enjoy a resurgence with the Rangers (ESPN)
In a blockbuster challenge trade that rocked the baseball landscape, the Detroit Tigers and Texas Rangers swapped
Prince Fielder
for
Ian Kinsler
yesterday. Straight up (with $30 million thrown in by Detroit to help cover Fielder's hefty price tag).
What made the deal so earth-shattering was the Fielder had only fulfilled two years of his gargantuan
nine-year, $214 million commitment
with Detroit. When he joined
Miguel Cabrera
,
Justin Verlander
and co. prior to the 2012 season, he was supposed to be the guy who could get them over the hump and bring home a World Series title--something Detroit hasn't done since 1984.
Well, so much for that. After a pair of deep but
ultimately unsuccessful
playoff runs, the Tigers decided they could live without Fielder. He's still owed $168 mil over the next seven, a sum only a handful of teams can afford.
Texas, who spent just under $140 million on its roster last year, is one such team. I mean, if they can afford to give Kinsler's double play partner
Elvis Andrus
an eight-year contract extension
worth $118 million
, then clearly money isn't an issue. The Rangers are flush. Normally that would mean a free agent spending spree is in order, but with so many teams locking up their superstars nowadays there's a considerable dearth of top-shelf talent up for grabs. So rather than shell out upwards of nine figures for the likes of
Jacoby Ellsbury
, the Rangers went out and traded for one of the best-hitting, most famous hitters in the game today.
In Fielder, the Rangers are acquiring one of baseball's best run-producers. Though his power numbers dropped in both of his seasons with the Tigers (Comerica Park did him no favors in that regard), he still managed to blast 55 home runs and drive in more than 100 runs each year. His numbers should see a nice boost in Texas, where he can take advantage of the Ballpark in Arlington. More importantly, he'll provide left-handed power for a team that had next to none (
Mitch Moreland
, I guess?) without
Josh Hamilton
last year. He'll team up with
Adrian Beltre
to form a fearsome heart of the order.
Kinsler's outlook is less optimistic. He's struggled with injuries throughout his career, missing an average of about 30 games per year, which doesn't bode well for a middle infielder in his early 30s. When he does play, Kinsler's an elite second baseman. Since debuting in 2006, Kinsler ranks fourth at the position (tied with
Ben Zobrist
) in fWAR behind only
Chase Utley
,
Robinson Cano
and
Dustin Pedroia
. Kinsler doesn't do any one thing spectacularly well but can do a little bit of everything. He can hit for power, steal some bases, get on base at a decent clip and play capable defense. His numbers are trending in the wrong direction, but he still graded out as a five-win player last year according to Baseball-Reference.
So who won this trade? It's hard to say. Kinsler comes out ahead in comparisons, which are easy to make given that they both became regulars in 2006. Baseball-Reference gives Kinsler the clear edge in WAR, 34.7 to 23.5, which is even more impressive considering Kinsler has played 256 fewer games. With the FanGraphs version they're much closer. Kinsler still holds a slight 29.1 to 27.7 lead, but one-and-a-half wins spread out over eight seasons is negligible. So, on one hand, the Tigers are saving themselves roughly $76 million in future salary commitments and get the superior baseball player. Not only do they fill a hole at the keystone position, but moving Fielder allows also Cabrera (or
Victor Martinez
) to shift back to first base, which means the Tigers are guaranteed to get better defensively at the hot corner. That sounds like a resounding win for Detroit.
But looking at it another way, it would seem that Texas got the better end of the deal. Fielder is nearly two years younger than Kinsler, after all, and a much better hitter. Much of Kinsler's offensive value was tied up in the Rangers' home park, where he was a .304/.387/.511 hitter as opposed to .242/.312/.399 everywhere else. Comerica Park is offense-friendly too, but not to the same extreme that Arlington is. Plus it's hardly encouraging that he's batted just .200/.298/.329 in his 162 plate appearances there. He'll be a big upgrade over
Omar Infante
, or whoever else Detroit was planning on playing at second, but he'll be hard-pressed to replicate his Texas numbers in a Tigers uniform (though will probably still do better than his replacement--20 year-old
Jurickson Profar
--in Texas).
Then again, it's certainly possible that his deal won't work out for either side. While both players are still young (Kinsler is 31 and Fielder will turn 30 in the spring), they're already showing signs of decline. Kinsler's power, defense, and speed have all noticeably deteriorated in each of the past two seasons, a worrisome sign that he's following in the footsteps of so many second basemen before him who aged poorly. Fielder hasn't come close to matching the prodigious power figures he posted with Milwaukee and has seen his OPS fall from .981 in 2011--his final season with the Brewers-- to .819 last year. 2013 was clearly a down year for Fielder, but he's still in his prime and is thus more likely to bounce back rather than keep slipping, but players with his body type typically don't last very long.
The unknown variable in this equation is what Detroit will do with that extra $76 million. As the Red Sox showed last winter, it pays to have financial flexibility. They could be aggressive in free agency this winter, but there's not much out there. A safer bet would be to extend
Cy Young
winner
Max Scherzer
, who will become a free agent after next season. At the very least, Detroit has options.
In the long run, I like this deal better for Detroit. But in the short run--for 2014, at least--I'd say Texas is the winner.