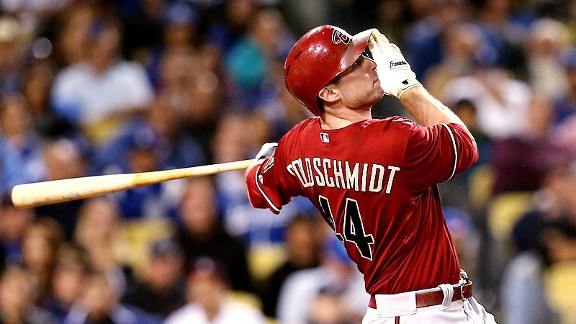 Arizona's Paul Goldschmidt was one of six first-time winners
C
Yadier Molina
After losing out to
Buster Posey
last year, Molina proved himself to be the NL's top catcher this season. He batted .319/.359/.477 with 44 doubles, which paired with his terrific defense has made him one of the three finalists for the league's Most Valuable Player award.
1B
Paul Goldschmidt
The Diamondbacks' first baseman built upon a quietly stellar 2012 to become the Senior Circuit's top hitter in 2013. His 36 home runs, 125 RBI, .551 slugging, .952 OPS, 160 OPS+, 75 extra base hits and 332 total bases all ranked first in the NL. It's no wonder, then, that he received 19 intentional walks--more than anyone else in the league.
2B
Matt Carpenter
As I said in yesterday's Molina/Carpenter MVP debate: "Carpenter might have been
the
Most Valuable Player in the National League this year. He led all of baseball in runs scored (126), hits (199) and doubles (55) while batting .318/.392/.481. The Cardinal's leadoff hitter for most of the season, Carpenter was an on-base machine at the top of the order and a big reason why St. Louis led the NL in runs scored this past year." The dude flat-out raked.
3B
Pedro Alvarez
Alvarez's feast-or-famine approach at the dish yielded more big-time power numbers in 2013: 36 home runs, 100 RBI and a .240 ISO. Not surprisingly, he also batted .233 and led the league with 186 whiffs. Awesome power aside, I think
Chris Johnson
and
Ryan Zimmerman
were more worthy of this award. Johnson batted .321/.358/.457 and led all NL third basemen in wOBA and wRC+, but Zimmerman was right behind him in those two categories and hit for more power.
SS
Ian Desmond
Desmond won a second consecutive Silver Slugger by putting up the same numbers as last year, albeit with slightly less power. That said,
Troy Tulowitzki
and
Hanley Ramirez
were both clearly more deserving of this award. Tulo played 32 fewer games and still managed more home runs and RBI while batting a much more potent .312/.391/.540. Ramirez only played 86 games--barely more than half a season--but matched Desmond's homer total (20) with off-the-charts rate stats (.345/.402/.638).
OF
Jay Bruce
Bruce won his second straight Silver Slugger on the strength of some pretty impressive power numbers. His .262/.329/.478 line doesn't leap off the page, but his 43 doubles, 30 home runs and 109 RBI--a career high and second most in the league--sure do.
OF
Andrew McCutchen
The likely NL MVP wasn't quite as awesome as he was
in 2012
but still put together a fabulous year to merit another Silver Slugger. 'Cutch does everything well, and the numbers bear that out: .317/.404/.508 batting line, 21 home runs, 38 doubles, and 27 steals. That's how he compiled the most oWAR in the league despite not ranking first in any traditional metric.
OF
Michael Cuddyer
Ladies and gentlemen, your 2013 NL batting champion! (?) That's right; Cuddyer's .331 batting average was tops in the Senior Circuit this year which makes him the sixth Colorado Rockie to win a batting crown, following in the footsteps of Andres Galaragga,
Larry Walker
,
Todd Helton
,
Matt Holliday
, and current teammate
Carlos Gonzalez
. While it's true that his numbers were pumped up by
Coors Field
, where he batted .356/.414./.582 this year, he was hardly a slouch on the road. Everywhere else, Cuddyer was a .311/.367/.485 hitter.
P
Zack Greinke
Known more for his
excellence on the mound
than in the batter's box, Greinke more than held his own with the stick this year. He batted .328/.409/.379 with nearly twice as many hits (19) as strikeouts (10). Not bad for someone who spent all but one and a half seasons in the DH-league prior to this one.