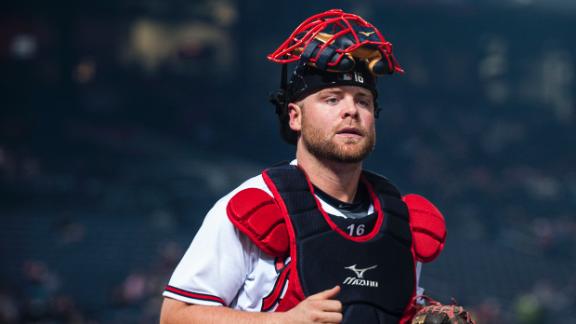 McCann will fill a gaping hole on the Yankees roster (ESPN)
The Yankees made their first major splash of the offseason not by
re-signing
Robinson Cano
, but by inking
Brian McCann
to a
five-year, $85 million deal
. The contract includes a vesting option for a sixth year that would push the total value north of $100 million.
In McCann, the Yankees have found their backstop for the rest of the decade, a fixture behind the plate to join the ranks of great Yankee receivers like
Bill Dickey
,
Yogi Berra
,
Elston Howard
,
Thurman Munson
, and
Jorge Posada
.
In 2013 that was something New York was sorely lacking. The Yankees missed the playoffs for a variety of reasons--age catching up to them,
CC Sabathia
having a down year, injuries to
Derek Jeter
,
Mark Teixeira
,
Kevin Youkilis
,
Alex Rodriguez
,
Curtis Granderson
compounded by incompetent replacements (
Vernon Wells
,
Lyle Overbay
,
Jayson Nix
)--but it was impossible to overlook just how weak the Yankees were at catcher. New York relied on a combination of
Chris Stewart
,
Austin Romine
and
Francisco Cervelli
, who together batted a lowly .213/.289/.298 with just eight home runs. Not re-signing
Russell Martin
proved to be a huge mistake, as the Yankees simply didn't have capable replacements.
McCann, a seven-time All-Star, should fix that. He's one of the best-hitting catchers in baseball with five Silver Sluggers to prove it (just three catchers--
Mike Piazza
,
Ivan Rodriguez
, and
Lance Parrish
have won more). As steady as they come, he's hit between 18 and 24 home runs in each of the past eight seasons, leading the position in long balls and RBI over that span. He complements that power with good on-base skills (career .350 OBP). Throw in his underrated defense, and when fully healthy he grades out as a four-to-five win player.
Since 2006
--McCann's first full season behind the dish--only
Joe Mauer
has accumulated more value at the position per fWAR, and Mauer's about to
move to first base
.
Detractors will point out that McCann's about to turn 30 and has seen his games played total drop in three consecutive seasons, but age shouldn't be much of a problem going forward now that he can take advantage of the DH. The lefty slugger can also take advantage of Yankee Stadium's short porch in right, which could (should?) boost his power numbers a bit.
This deal
makes a ton of sense
for the Bombers and represents a big first step in getting them back on track to reach the postseason in 2014. Now that the Yankees have addressed one of their biggest needs, they can turn their attention to another premium position that needs to be filled:
second base
.*
Though tt's much more likely we'll see New York make a run at an outfielder before they start negotiating with Cano. Carlos Beltran, Shin-Soo Choo and Jacoby Ellsbury are all on their radar.