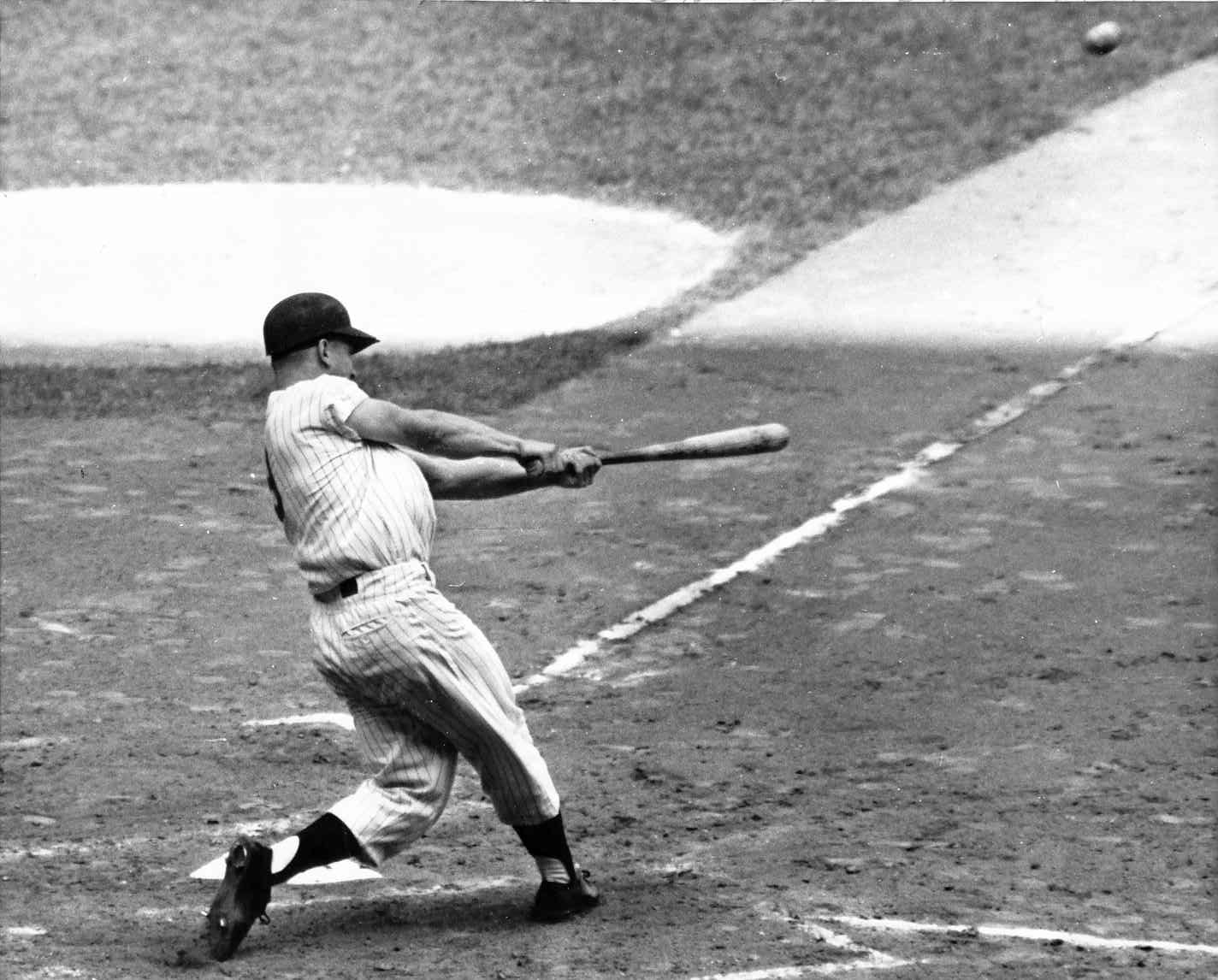 With one swing of the bat, Maris made history . But is that achievement Hall-worthy?
Does
Roger Maris
deserve a plaque in Cooperstown, alongside pinstriped teammates
Mickey Mantle
,
Whitey Ford
, and
Yogi Berra
? The short answer--one I bet most people would agree with--is no. He hung around on the ballot for the maximum 15 years, typically polling in the 20 percent range. It was only after his death in 1985 that his support swelled, climbing from a low of 16.6 percent in 1982 to his high of 43.1 percent in '88--his final year on the ballot. In the quarter-century since then, veteran's committees have not deemed him worthy, either.
It's not hard to see why, for his case is pretty weak. The average right fielder in the Hall of Fame compiled 73.3 bWAR in his career, and Maris's total of 38.3 is about half that. As such, JAWS rates him as the 52nd best right fielder of all-time, better than only
Ross Youngs
among Hall of Famers at the position and worse than
Jesse Barfield
,
Johnny Callison
and
Ken Singleton
.What's more, Maris never hit .300, or even .290. He never had an on-base percentage above .375. He played in seven World Series, but his lackluster performance in the Fall Classic doesn't help his candidacy. Maris won two MVP awards, but so did
Juan Gonzalez
and
Dale Murphy
, both of whom have more compelling cases for Cooperstown.
That said, I will readily admit that at Maris's zenith in the early 1960s, when he won back-to-back MVPs and broke
Babe Ruth
's single-season home run record, he was a Hall of Fame caliber player. Worth seven wins in both 1960 and '61, Maris was an elite power hitter with good on-base skills and a tremendous arm. He even won a (much-deserved) Gold Glove in 1960 for defensive contributions on par with those of
Al Kaline
and
Roberto Clemente
. From 1960 to '62, nobody hit more home runs than Maris, who was the league's
second most valuable player
over that stretch per fWAR.
The problem is that he didn't do it long enough. His career, which lasted just 12 seasons, was abbreviated further by various injuries that kept him below 500 plate appearances in seven of those campaigns. As a result, his counting numbers fall far short of Cooperstown standards.
His 127 OPS+ is very good
, better than numerous Hall of Famers like
Ron Santo
,
Kirby Puckett
,
Ernie Banks
, and
Johnny Bench
, but not good enough to separate himself from the
Bob Horner
's,
Dwight Evans
's and
Don Mattingly
's of the world, much less compensate for a career that barely lasted 5,000 official at-bats.
The only viable case Maris has for Cooperstown is if you believe the Hall of Fame should honor the game's most famous and well-known players, regardless of track record. By that standard, Maris ranks very high. He held the single-season home run record for 37 years, and still holds the American League home run record (the three men who passed him--
Mark McGwire
,
Sammy Sosa
, and
Barry Bonds
--were all National Leaguers) to this day. His epic home run chase with Mickey Mantle during the
summer of 1961
was one of the most memorable sports stories of all-time, shoving him into the
national spotlight
and making him a household name.
But many players have achieved a great deal of notoriety with one magical season.
Mark Fidrych
in 1976.
Fernando Valenzuela
five years later.
Hideo Nomo
in 1995.
Eric Gagne
in 2003. The list goes on. None of them are Hall-worthy because they couldn't sustain their excellence. Neither could Maris.
Maris followed up his record-breaking campaign with another strong performance in 1962, surpassing 30 home runs and 100 RBI for the third straight year and earning a fourth consecutive All-Star nod. Just 28 years old at season's end and with nearly 200 career home runs under his belt, Maris seemed to have a good shot at the Hall of Fame. His closest comp up to that point was
Reggie Jackson
, another legendary Yankee slugger who would reach similarly lofty heights 15 years later.
Unfortunately, injuries sabotaged the remainder of Maris's prime and accelerated his decline. He was limited to 90 games in '63 and just 46 in 1965, when he suffered a wrist injury that diminished his power. By 1966 the Yanks were in decline and so was Maris. In December he was traded to the St. Louis Cardinals for
Charley Smith
, who would go on to bat .224 with ten home runs in 181 games with New York over the next two years.
Meanwhile in St. Louis, Maris enjoyed a minor renaissance for the contending Cards. The veteran rebounded at the plate, and even with his power gone he still hit well enough to be a three-win player. St. Louis, led by
Bob Gibson
and league MVP
Orlando Cepeda
, won the 1967 World Series over Boston in large part because of Maris, who batted .385 with seven RBI in the seven-game Fall Classic. The '67 Series turned out to be Maris's last hurrah, as he fell off the following year and retired after a poor World Series, which the Cardinals lost to the Detroit Tigers.
Maris had a Hall of Fame peak, but not a Hall of Fame career. The same can be said about several players in Cooperstown, namely
Sandy Koufax
,
Jim Rice
, and
Roy Campanella
, but their peaks were longer and higher. Three great seasons just isn't enough.