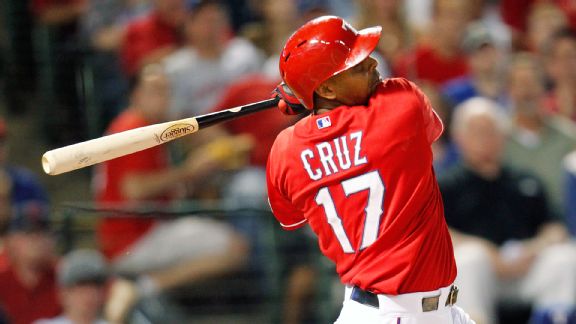 Cruz is not as good as his power numbers suggest (ESPN)
Nine days until pitchers and catchers report to spring training, and
Nelson Cruz
is still a free agent (
but probably not for long
). That probably wouldn't be the case if he hadn't served a 50-game PED suspension last year, but then again so did
Jhonny Peralta
and
he signed a fat deal
with the St. Louis Cardinals over two months ago. Cruz is one of the
few remaining impact free agents
, but while his power may be alluring you should hope your team doesn't commit multiple years and millions of dollars to him. Here's why:
1. He's old
Cruz is going to turn 34 on July 1st, well past a player's
prime age
. His best years are likely behind him, so whoever signs Cruz is likely paying for the decline phase of his career.
2. He's injury-prone
Cruz has played more than 130 games in a season once in his nine-year career.
3. He doesn't hit well outside of Texas
The Ballpark in Arlington (now Ameriquest Field?) is a hitter's haven. Everyone knows that. It's so advantageous that it makes Cruz hit like
Frank Robinson
, as he's batted .294/.356/.555 with 58.6 percent of his career home runs there. But away from home he's hit a much less formidable .242/.299/.435. Teams like the Mariners who play in pitching friendly environments need to take that into account and adjust their expectations accordingly.
4. His offense is one-dimensional
Cruz is going to get paid because of his power. He's gone yard 135 times during the past five seasons, a total that exceeds those of
Ryan Howard
,
Josh Hamilton
and
Joey Votto
and works out to be an average of 27 dingers per year.
Only 16 players
have hit more home runs during that span and just
four players
have posted a better ISo while playing in more games. Still, power is pretty much the extent of Cruz's offensive contributions these days. He's never topped 90 RBI despite batting in some loaded Rangers lineups. He strikes out a lot, doesn't hit for high averages and is a subpar baserunner. Lastly, his patience leaves something to be desired, for Cruz has never walked 50 times in any season and holds a .319 OBP over the last three years. He's basically an older
Mark Trumbo
.
5.
He's a defensive liability
Never a Gold Glover to begin with, Cruz can no longer hold his own in right field and gives back a good chunk of the value his bat provides, which at about two wins per seasons really isn't that valuable to begin with. At this stage of his career he'd be better-suited as a DH, which limits roster flexibility and should make National League teams wary of signing him.
6.
He just got busted for PEDs
Cruz was involved in the Biogenesis scandal that brought down Peralta,
Alex Rodriguez
and
Ryan Braun
, among others. Who knows how that's going to affect his performance?
Melky Cabrera
suffered a notable drop-off in performance in his first season following a PED suspension, and he's four years younger than Cruz.
Cruz is a two-win player at best these days, and probably not even that once you factor in age, ballpark, and PED-related decline. The two-time All-Star is probably
going to be a bust
wherever he signs, especially if he goes to Seattle and has to play half his games in notorious
power-killer Safeco Field
.
Steer clear
, Mariners!