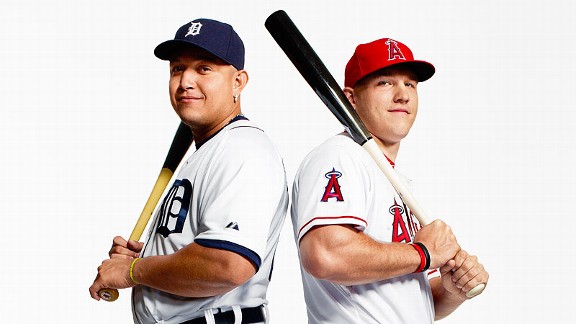 Cabrera and Trout battle for fantasy's top spot (ESPN)
Imagine your fantasy baseball draft day has finally arrived and you scored the first pick. You're sitting pretty. The only question is: who do you take?
Even though any player in the MLB universe can be yours, you only have to consider two options. One is
Miguel Cabrera
, back-to-back MVP, three-time batting champion, and the most dangerous hitter in the game. The other is
Mike Trout
, baseball's best player.
So who do you choose? ESPN, MLB and Yahoo all have Trout at number one and Cabrera at number two. I thought it'd be helpful to compare their 5x5 totals from the last two years, with their major league ranks in parentheses:
Cabrera: 212 R (2nd) 88 HR (1st) 276 RBI (1st) .338 AVG (1st) 7 SB (82nd)
Trout: 238 R (1st) 57 HR (14th) 180 RBI (22nd) .324 AVG (2nd) 82 SB (1st)
The numbers favor Cabrera who has a huge edge in home runs and RBI. He's a good bet to provide more runs, RBI, home runs, and a higher batting average than anyone else, though the run total will probably go down a bit now that
Victor Martinez
is batting directly behind him instead of
Prince Fielder
. He's not going to provide many steals, but you're not drafting him for his speed.
But Cabrera has reached his peak. He's not going to get any better than this (can he?). Trout, on the other hand, is only 22. He still has room to grow. 40/40 is a very real possibility for him. So is winning a batting title, scoring 130 runs and driving in more than 100.
Even if you don't think Trout can get much better, you have to ask yourself if Trout's huge advantage in steals and sizable edge in runs compensate for Cabrera's superiority in the other three categories. Last year they weren't quite enough, as Cabrera was the most valuable player in fantasy baseball, scoring a 15.04 on ESPN's Player Rater. Trout was a not-too distant second at 14.57. It's worth noting that in 2012 Trout came out on top, and Cabrera was third with
Ryan Braun
sandwiched between them (Braun, coming off an injury-plagued and PED-ruined season, is too big of a question mark to take first this year).
Cabrera loses a bit of value by moving back across the diamond from third base to first, but manning first should help keep him on the field. He's about to be 31 though--the same age
Albert Pujols
began to decline--and was slowed by injuries in the second half. Cabrera's 2013 games played total was his lowest since his rookie season, which should be taken into account. He carries a bit more age/injury-regression risk than Trout.
It all comes down to a matter of personal taste, I suppose. Trout's game is more rounded and still has room for improvement. If you like to draft upside and/or power-speed guys, then Trout's your man. But if you love mashers you can plug in on Opening Day and never worry about again (of which there are very few), then Cabrera's a no-brainer.
I'd probably pick Trout because I like well-rounded players who can give me a bit of everything, but you can't go wrong with either of them. So if you're on the clock and become overwhelmed with indecision, don't hesitate to flip a coin.