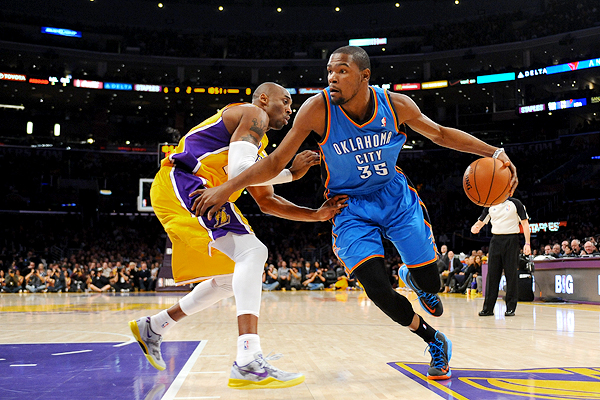 Kevin Durant has finally surpassed LeBron as the sport's top player (ESPN)
I'm a few weeks late, I know, but better late than never!
MVP--
Kevin Durant
I say it every year, but this is the year that Kevin Durant wins his first MVP award. But actually. KD's averaging 31 points per game on 51.3 percent shooting at the moment, both career highs if he can sustain them for the rest of the season. On top of that, he's become a better passer with
Russell Westbrook
out, averaging a personal best 5.3 assists per game. Mix in his strong rebound and good defense, and Durant's contributions add up to the best PER in the league. The MVP is his award to lose.
Runner-up--
LeBron James
Rookie of the Year--
Michael Carter-Williams
Despite missing 12 games thus far, Williams is miles ahead of anyone else from his rookie class. The 22 year-old point guard is one of Philadelphia's few bright spots, averaging 17.6 points and 6.6 assists per game. He also rebounds well for a point guard (5.4 boards per game) and gets lots of steals (2.2 per game). His shooting could use more polish, as he's hit less than 40 percent of his field goals thus far and is just a shade over 70 percent from the foul line, but it's clear he has the raw tools and athleticism to be a star for a long time.
Runner-up--
Trey Burke
Defensive Player of the Year--
Roy Hibbert
Hibbert's improved upon his already stellar defense from last year, averaging 2.4 blocks per game (third behind
Anthony Davis
and
Serge Ibaka
) and maintaining an NBA-best 94 DRating. Nobody protects the rim better than the 7'2 Georgetown product.
Runner-up--Serge Ibaka
Sixth Man--
Nick Young
The Lakers have been woefully short on offense without
Kobe Bryant
, so much so that Young, who typically comes off the bench and plays around 29 minutes per game, actually leads the team in scoring. He's pouring in nearly 17 points a game and while he doesn't do much else, the Lakers have to be glad they have
somebody
who can put the ball in the hoop.
Runner-up--
Manu Ginobili
Most Improved--Anthony Davis
The 20 year-old Davis has emerged as a force to be reckoned with in his sophomore year by improving on both ends of the court. He's embraced a larger role on offense as his playing time has increased, and his scoring has jumped from 13.5 points to 20.5 points per game without negatively affecting his field goal percentage (in fact, it's gotten better). He's also taking and making more free throws, always an encouraging sign from young players. The first pick of the 2012 draft has the NBA's fifth highest PER (26.7, up from his 21.7 showing as a rookie), most blocks, highest block percentage and most blocks per game. He's also a terrific rebounder, snaring 10.5 rebounds per night. The future looks bright for New Orlean's double-double machine.
Runner-up--
Isaiah Thomas
Coach--Terry Stotts
The Blazers have enjoyed a remarkable turnaround under Stotts, who coached them to a 33-49 record last year. They're 35-14 as of this writing, good for the third-best record in the West. Stotts has leaned heavily on his young, talented starting five, and they've rewarded him. He's getting an MVP caliber season out of
LaMarcus Aldridge
, continued growth from last season's Rookie of the Year
Damian Lillard
, a career year from
Wesley Matthews
, improvement from
Robin Lopez
and more good things from
Nicolas Batum
. After a couple of lean years, Portland's reclaimed its proud status as one of the top teams in the Western Conference.
Runner-up--
Jeff Hornacek