Injuries have not affected Pedroia's stellar play in the field (BostonCBS)
Baseball's Gold Glove award winners were named yesterday, and while there are always some questionable selections I have to say most of these are pretty spot on. The selections have become markedly more accurate in recent years, which is absolutely a good thing. They're doing a much better job of what they were intended for, which is to honor the best defender at each position in both leagues. As always, though, there were a few miscalls that I felt obliged to point out.
Here's my position-by-position breakdown.
American League
C
Salvador Perez
Second consecutive Gold Glove for Perez, who seems to be developing into the AL equivalent of
Yadier Molina
. FanGraphs had him as the best
defensive catcher in basebal
l last year.
1B
Eric Hosmer
Second straight for Hos.
2B
Dustin Pedroia
Pedroia's bat's been slowed by injuries in recent years but his defense has remained elite, as he was the best defensive second baseman this year
according to FanGraphs
. Baseball-Reference rated his fielding contributions as worth 2.5 dWAR, the highest total of his career even though he missed 27 games.
3B
Kyle Seager
While his offensive figures have held steady over the last three years, Seager made significant strides in the field this year. A mediocre third baseman in the past, he elevated his fielding and was an asset at the hot corner this year. But he was not as good as
Josh Donaldson
, who was tremendous last year and even better this year--worth 2.7 dWAR according to Baseball-Reference. B-R and FanGraphs both rate Seager inferior.
SS JJ Hardy
Hardy's
signature power disappeared
, but he was still as slick-fielding as ever and nabbed his third straight Gold Glove as a result.
LF
Alex Gordon
Easy call here, as Gordon is universally regarded as one of the
finest defensive outfielders
in the game today.
CF
Adam Jones
The metrics disagree with this one, but many who watch Jones play everyday say he's absolutely deserving. I'm inclined to think his true value falls somewhere in the middle. That said, he was actually pretty good this year, but I'm just not sure he was better than
Jackie Bradley
Jr. (what can't that kid catch?) and
Leonys Martin
. What I am sure about is that he should not have four Gold Gloves lined up in his trophy case.
RF
Nick Markakis
No way. Markakis has been a bad defender since 2008, and yet somehow has managed to snag a pair of Gold Gloves during that time.
P
Dallas Keuchel
Sure.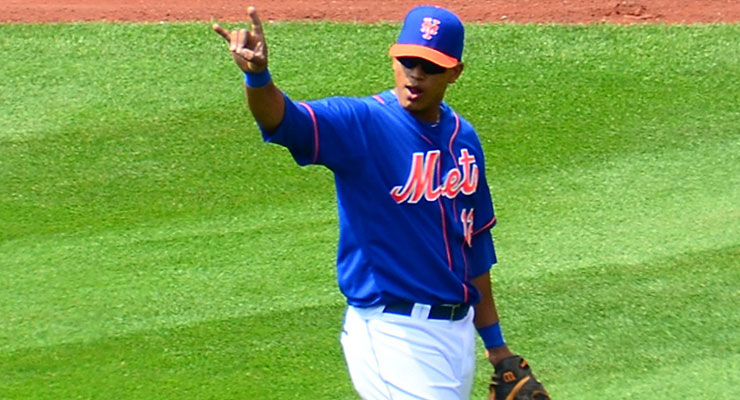 Lagares patrols the Mets' outfield with authority (Hardball Times)
National League
C Yadier Molina
Yadi took home the hardware for the seventh straight year, which is understandable given that his elite defense behind the plate held steady. That said, he didn't deserve this one because he wasn't as valuable as
Jonathan Lucroy
, a more worthy candidate because of his elite pitch-framing capabilities. Lucroy wasn't much better, but both B-R and FanGraphs agree he was superior. Molina wasn't a bad choice, it's just that Lucroy was the right choice.
1B
Adrian Gonzalez
Gonzo had a good year at the plate and in the field, earning his fourth career Gold Glove and first since 2011.
2B DJ LaMahieu
Like teammate
Nolan Arenado
last year, didn't do much with the bat but had a heck of a year defensively. W
ell-deserved
.
3B Nolan Arenado
Won his second straight, as he was worthy nearly two dWAR despite missing a third of the season. This wasn't a mistake--he's really that good.
SS
Andrelton Simmons
Jhonny Peralta
had an excellent year with the glove, but Simmons was even more fantastic. Not quite as great as he was last year, when he won his first Gold Glove with 5.4 dWAR, but his 3.9 dWAR this year were exceptional, making him the best defensive shortstop
in either league
.
LF
Christian Yelich
Yep.
Good call
.
CF
Juan Lagares
If you watched Lagares play at all this year, then you know how much he deserves this award.
RF
Jason Heyward
Another easy call, as Heyward was far and away the
best defensive right fielder
in baseball this year. His bat hasn't progressed the way we'd hoped, but the 25 year-old probably has a few more Gold Gloves in his future.
P
Zack Greinke
Okay.