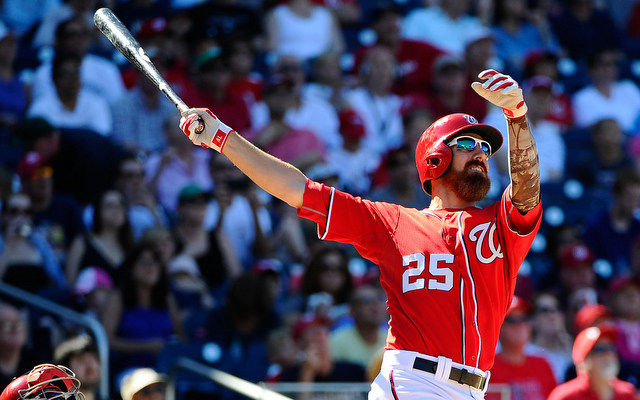 LaRoche landed in the Windy City (CBSSports)
The rebuilding Chicago White Sox injected some much-needed lefthanded power into their lineup by inking first baseman
Adam LaRoche
to a
two-year, $25 million deal
.
With reigning AL Rookie of the Year
Jose Abreu
already entrenched at first base and considerably younger, the 35 year-old LaRoche expects to replace the retired
Adam Dunn
as Chicago's everyday DH. LaRoche is a great bet to reach or exceed Dunn's 2014 production, which included 20 home runs, 54 RBI, and a .773 OPS (LaRoche has averaged 22, 76, and .811 per season to this point). Abreu was a disaster defensively, but he's also seven years younger than LaRoche, who has annually rated among the game's more defensively-challenged first basemen, his 2012 Gold Glove notwithstanding. At this stage in LaRoche's career, getting him off the field definitely makes sense.
Besides, the White Sox aren't paying LaRoche for his glove; they made this move because of what he can do in the batter's box. One of the steadiest power bats in the game, LaRoche has exceeded 20 home runs every year but one dating back to 2005, with an injury-riddled 2011 (just 43 games played) the exception. Incredibly durable, LaRoche has played at least 140 games in eight of the past ten seasons.
And while LaRoche's age may be a concern for some, he has showed no signs of slowing down. Last year he batted .259/.362/.455--right in line with his career .264/.340/.462 marks--with 26 home runs and 92 RBI in 140 games. He also posted the best full-season walk rate of his career (14 percent) while posting the second-lowest strikeout rate of his career. His batted ball data didn't change and he didn't have negative run values against any kind of pitch. He also fared well against power pitchers (.800 OPS), finesse pitchers (.821 OPS), and everyone in between (.821 OPS). Like fellow DHs
David Ortiz
and
Victor Martinez
, LaRoche has aged gracefully and should continue to do so.
Plus, moving from
power-stifling
Nationals Park to the homer-friendly U.S. Cellular Field should help alleviate any natural decline. If LaRoche stays healthy, he may have a shot at threatening his high-water mark of 33 home runs and 100 RBI, both reached in 2012. That represents his ceiling, obviously, but his floor is pretty high as well. Only once has he batted below .250 in a full season (2013) or slugged below .450 (also 2013), and his OBP has never been lower than .320. In today's run-parched environment, those are all pretty decent and certainly playable numbers.
So as far as 35 year-olds go, LaRoche is a pretty safe investment.