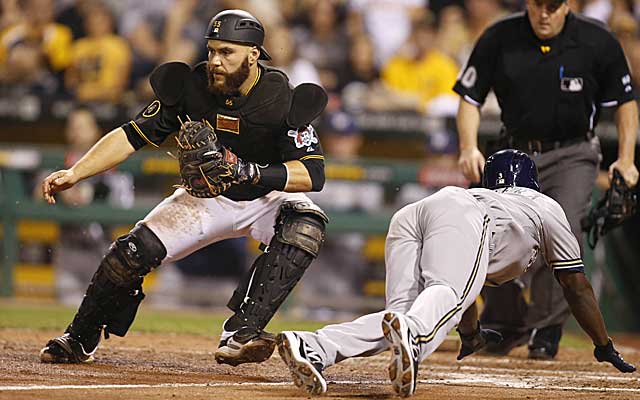 Martin's a fantastic catcher, but Toronto needs help elsewhere (CBSSports)
It's been awhile since the Toronto Blue Jays had a credible catcher. Sandwiched around
John Buck
's fluky All-Star year in 2010, they've endured terrible seasons from
Rod Barajas
before and
J.P. Arencibia
since. Last year they had Dioneer Navarro, a decent bat coupled with poor defense at the most important position on the diamond. It was clear the Jays could do better behind the plate, where they managed a meager .659 OPS last year, but I'm not sure
Russell Martin
is enough of an upgrade to justify his hefty price tag.
To his credit, Martin was phenomenal last year, worth 5.5 bWAR despite playing in only 111 games. In addition to being one of the best defensive backstops in the game, he also hit for some power, batted .290, and got on base more than 40 percent of the time. That's a great, valuable player who helped lead the Pittsburgh Pirates back to the postseason for the second year in a row.
Furthermore, Martin has a distinguished track record of success. The three-time All-Star and former Gold Glove winner has been the
third-best catcher
in baseball since his debut in 2006, behind only
Joe Mauer
and
Brian McCann
. While he's had his ups and downs as a player, he's always been a productive player because of his sterling defense at a premium position, solid bat, good health (he's averaged 129 games per season), and decent speed.
So why do I despise Martin's deal (
five years, $82 million
)? Well for one, Martin's going to be 32 at the start of next season, which is old for any player but especially a catcher who's already logged nearly 10,000 career innings behind the dish. Martin's been an everyday catcher for nearly a decade, and that's probably going to start "catching" up to him (pun intended) sooner or later.
Additionally, it appears Toronto overpaid Martin based on his tremendous 2014 production just as
Detroit overpaid for
Victor Martinez
's 2014, clear outliers in both cases. Look at the five seasons before last, when Martin batted .234/.332/.370 while averaging 13 home runs and 50 RBI per year. That's the kind of hitter Martin is going to be, not the guy who put up the best OBP and adjusted OPS+ of his career at age 31. Don't be surprised when he regresses to a .700 OPS or worse next year.
I also don't see how the Blue Jays are rationalizing this move to themselves when they already had Navarro, one year Martin's junior, under contract for next year at the bargain bin price of $5 million. Martin's a better player and certainly better catcher than Navarro, but at that price Navarro is an absolute steal. Furthermore, the difference between Martin and Navarro just isn't wide enough to justify paying Martin three times as much money for 2015.
Look, last year Navarro was worth 2.3 bWAR, same as the year before. From 2009 through 2013, Martin's average season yielded 2.6 bWAR. Steamer says Martin projects to be worth two more wins that Navarro will next year, but based on their track records I don't see it. Take into account that Martin's one year older, and they would have been virtually a wash in terms of projected value for next year.
Now Navarro, a .294/.331/.429 hitter over the last three years, is either relegated to backup duties or must be traded. As for Martin, I expect he'll have a season similar to the one McCann just had, minus some power but with better on-base numbers. Probably looking at a three win guy there, four if Toronto's lucky.
I get that the Blue Jays are in win-now mode, and that after winning 83 games last year they believe a playoff berth is within reach. They haven't made the postseason during the wild card era, and the AL East is once again up for grabs. They're at a point on the win curve where just one more win a month probably gets them over the hump, but Martin alone isn't going to do it. Toronto desperately needs a second baseman and could really use another frontline starter (that rotation is just begging for an ace) as well as a couple bullpen arms. I would have addressed those issues first rather than catcher, where they were already okay.
Instead, now they're stuck with Martin, whose best days are almost definitely behind him. I don't see him contribute enough on the front end of the deal to justify for just how bad he's going to be at the back end. If I'm Toronto, I save that money and spend it elsewhere, probably on an ace like
James Shields
,
Max Scherzer
, or
Jon Lester
. That's what they really need to make the playoffs, not a slightly better catcher.