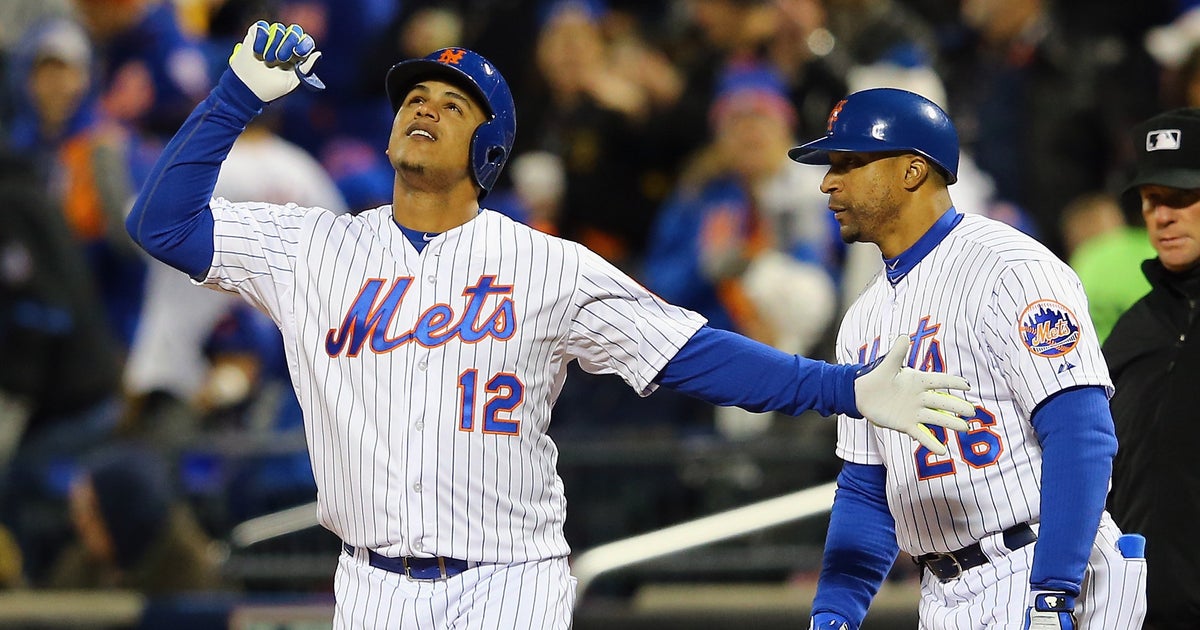 The Mets emerged victorious in Game 3 (Huffington Post)
There's a comedian--Brian Regan--who does a
funny bit
about the dumb questions sports reporters ask. One of his examples; "is this a must-win game for you?", to which players always say things like "of course" or "definitely." As Regan points out, though, unless it's an elimination game, it never is a
must-win
. Obviously, as a competitor, you
want
to win every game, but very rarely do you actually
have
to win.
But after losing games 1 and 2 of the World Series in Kansas City, the New York Mets absolutely had to win Game 3. Sure, they could lose the third game and still win it all, but despite what the 2004 Red Sox and a handful of hockey teams have shown us, going down 3-0 in a best of seven series is a death sentence. It's just too hard to win four in a row against an elite team, especially when half those games are on the road.
Having already thrown their two aces (
Matt Harvey
and
Jacob deGrom
), the Mets pinned their hopes on
Noah Syndergaard
, their hard-throwing,
lion-haired
rookie. A kid who began the season in the minors and turned 23 two months ago--not exactly the grizzled, battle-hardened
Jon Lester
-type you'd want starting a game like that.
Nobody knew what to expect from Syndergaard last night, but it's safe to say nobody thought he'd open the biggest game of his life by buzzing Kansas City's leadoff batter on the
very first pitch
. Besides
nearly inciting a riot
in the Royals' dugout with that high and tight fastball aimed at
Alcides Escobar
's noggin, he also made a very loud, very clear statement;
I'm the one in control here. We might be down in this series, but I'm not afraid of you. You're the ones who should be afraid of me
.
His purpose pitch did, however, have the unintended side effect of lighting a fire under the Royals, who clearly don't take kindly to 98 mile-per-hour heaters headed for their helmets. They didn't wait around to exact revenge, knocking Syndergaard around for six hits and three runs through the first two innings. With Syndergaard struggling, it looked like it was going to be a long night for New York's bullpen, not to mention another victory for Kansas City.
Then, all of the sudden, Syndergaard became unhittable, He retired 12 Royals in a row, keeping Kansas City at bay while his teammates tied the game in the third, then took the lead in the fourth.
That is, until he ran into trouble again in the sixth. After fanning
Lorenzo Cain
and
Eric Hosmer
, he allowed
Mike Moustakas
to reach on an infield single. It was the kind of cheap hit that drives pitchers crazy, especially when they come with two outs. That forced Syndergaard back to pitching out of the stretch for the first time in awhile, which seemed to disrupt his rhythm. He walked
Salvador Perez
--who probably would have taken a hack at that pitch that almost decapitated Escobar--on five pitches before losing Gordon on a full count.
With Syndergaard closing in on 100 pitches and New York's 5-3 lead very much in danger, the crowd at Citi Field began howling for a pitching change. One more hit would even the score and force Syndergaard out, turning the game into a battle of bullpens. Since that would
obviously favor Kansas City
, New York could not afford to lose its lead.
So it was curious, then, that Mets manager
Terry Collins
stayed put, sticking with Syndergaard as
Alex Rios
came up to bat. It was the most important at-bat of the game, and Collins had to choose between his tiring starter and a fresh reliever, albeit one from his shaky middle relief corps. He went with the former, hoping for one more out from the rookie. On his 100th pitch of the night, Syndergaard got it, suffocating Kansas City's rally and preserving New York's lead at two.
The lead would grow to six by the end of the inning, as the Mets erupted for four runs in their half of the frame. New York's bullpen took it from there, doing their best impression of the Royals' relief corps by shutting down Kansas City over the final three innings. So dominant were the Mets relievers that the Royals didn't manage so much as a single baserunner. And with that, it was a series again.
The Mets will send another rookie,
Steven Matz
, to the mound tonight as they look to even the Series at two-all. A native New Yorker, Matz understands the pressure riding on this game. It's the most important one of the series, as there's a huge difference between being tied at two games apiece versus being one loss shy of elimination. It's his job to ensure the former.
On the other side, the Royals will try to get back on track behind
Chris Young
. who surprised everyone by emerging as their best pitcher this year. A full 12 years older than Matz, he has a solid decade of major league experience on his kid opponent. And thanks to his relief appearance in Game 1, he has more World Series experience under his belt, too. Young was the winning pitcher in that
crazy marathon
, firing three hitless innings out of the 'pen as he put the sleepy Mets to bed. We'll see if he can do the same against their refreshed lineup tonight.