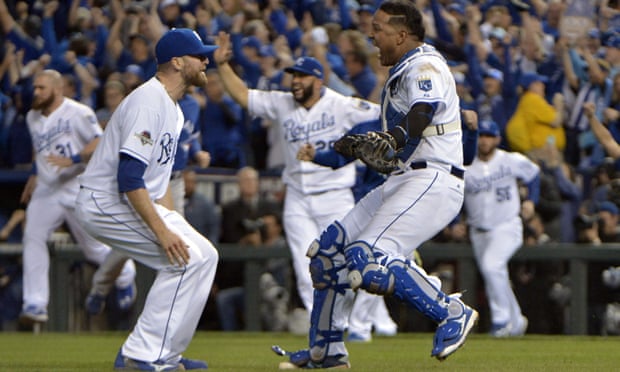 They're baaaaack (image courtesy of the Guardian)
The Kansas City Royals came within one game of winning it all last year. Now they're back to finish the job.
I still can't believe Kansas City is in the World Series--again. Last year seemed like such a fluke, from their
crazy comeback
against Oakland in the wild card game to stunning sweeps in the ALDS and ALCS. Were it not for
Madison Bumgarner
, they would've beaten the Giants, too. They'd overachieved by leaps and bounds, especially considering they'd only outscored opponents by 27 runs during the regular season.
That's why this year, I didn't see the Royals going .500 and certainly not getting back to the World Series. They hadn't been very good to start with and seemed due for serious regression, especially after losing
James Shields
and
Billy Butler
to free agency and spending what little money they had on guys who weren't very good (
Alex Rios
?
Edinson Volquez
?
Kendrys Morales
?). Compared to other teams, they were dangerously low on star power. Furthermore, Kansas City's strengths--speed, bullpen, and defense--are highly volatile, making its success more difficult to sustain.
Once again, however, everything fell into place for the Royals. Their new pickups (minus Rios) played well, and their bullpen was even stingier than it was last year.
Lorenzo Cain
emerged as an MVP candidate, while
Eric Hosmer
and
Mike Moustakas
finally started living up to their potential. They were aided by trade deadline reinforcements in
Johnny Cueto
and
Ben Zobrist
. Their defense remained airtight.
It also helped that the rest of their division cleared a path for them. The Tigers finally broke down, the Indians failed to take the next step, and the Twins and White Sox both fizzled out. That enabled the Royals to not only win AL Central handily, by a dozen games, but also helped them secure the best record in the American League and homefield advantage throughout the playoffs. That's been huge for Kansas City, who have won five straight at home since dropping Game 1 of the ALDS to Houston.
Now, for the second time in as many years, Kansas City will host the World Series. Once again, the Royals will have to go through some tough pitching, though this time there will be no Bumgarner standing in their way. Instead, they'll need to overcome
Matt Harvey
,
Jacob deGrom
, and
Noah Syndergaard
, three fireballers who will put their contact skills to the test. They'll also have to find a way to neutralize
Daniel Murphy
, something nobody's been able to do thus far.
I think the Mets have
more talent
and are more dangerous, especially because their starting pitching is so superior. Their offense has also been ridiculously hot over the past three months, which if it continues will force Kansas City's starters early from the game and take their relievers out of play. That being said, I do think the Royals have a more balanced team and deeper lineup, so it won't be a cakewalk for New York.
Mets in six
.