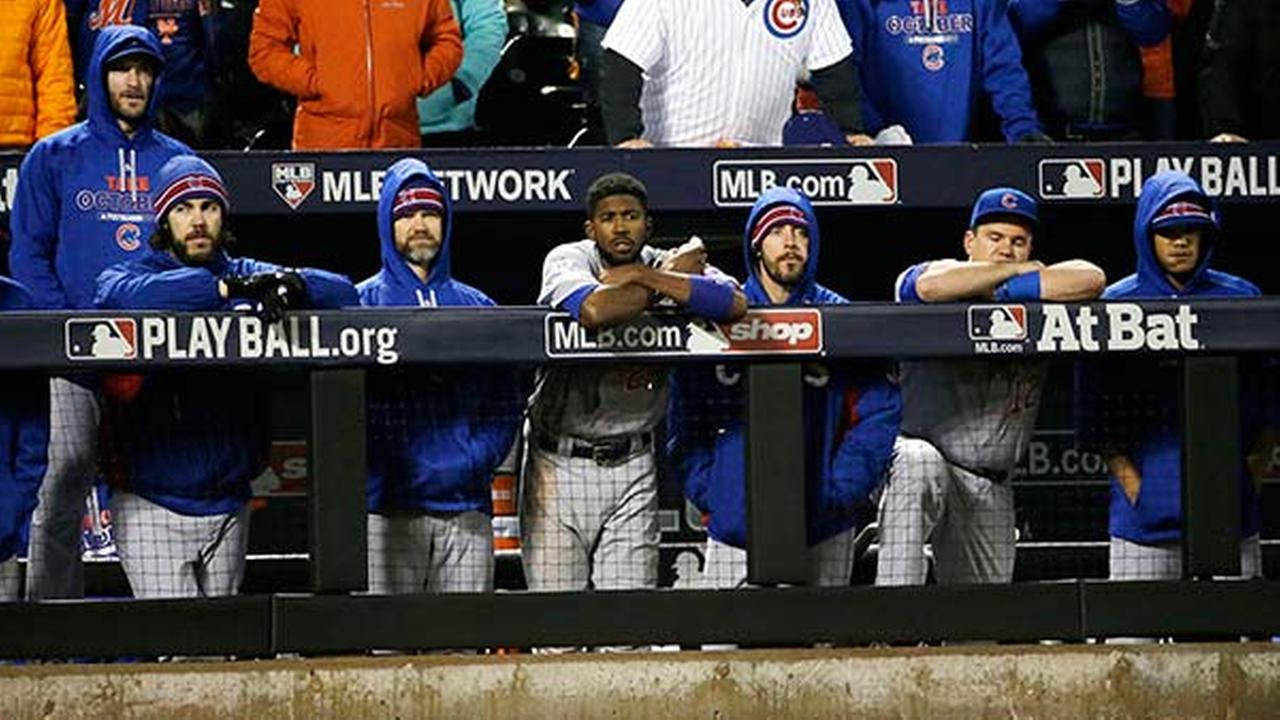 Chicago's season came to an end last night (ABC Chicago)
Great pitching can stop great hitting. Dead in its tracks.
If anyone seemed immune to New York's talented trio of fireballers (messrs.
Matt Harvey
,
Jacob deGrom
, and
Noah Syndergaard
), it appeared to be the Cubs. Chicago's stacked lineup feasted on fastballs, and nobody throws harder than the Mets--the only team with more than one starter whose average fastball velocity exceeded 95 miles per hour during the regular season (they had three, actually. Care to take a guess?). They had an ace coming off the greatest second half ever, another with a sterling postseason record, and the best manager in baseball. What could go wrong?
Chicago getting swept out of the NLCS seemed unfathomable a week ago. The Cubs were on such a roll, it didn't seem like anyone could stop them. They had the best record in baseball from July 29th onward, then proceeded to eliminate the only two teams with better regular season records than them. Everyone was hitting,
Jake Arrieta
was untouchable, and the defense and bullpen were rock solid. Just four wins shy of the club's first World Series appearance in 70 years, Chicago appeared to be coming together at the perfect time.
Then, against the Mets, they completely unraveled. The hottest team in baseball never even had a lead. New York's vaunted pitching shut down Chicago's vaunted offense, limiting the Cubs to eight runs and 21 hits over the four games.
After taking a commanding 3-0 series lead, the Mets pressed down on the gas pedal in Game 4. They put the game away early, building up a 6-0 lead after two and sending
Jason Hammel
to an early shower. They cruised from there, extending their lead to 8-1 after adding a pair of insurance runs in the eighth before finally winning 8-3.
And so the 42,000+ crammed into Wrigley's cozy confines hoping to witness the beginning of a miracle comeback instead saw their team's season come crashing down, realizing the wild ride they'd been on for the better part of three months was over. There was no hope in Wrigleyville last night, no illusions about the Cubs coming alive at the 11th hour. Their bats had shown not an ounce of life during the previous three games, and last night was no different as
Steven Matz
and co. mowed them down once more.
Better to get your brains beaten in than lose by a whisker, as the Royals did
last year's World Series
, There's nothing heartbreaking about getting blown out--only demoralizing.
In the end, New York's incredible starting pitching and
Daniel Murphy
(seriously, where did
that
come from?) proved too much to overcome. I'm just shocked the Cubs, who took down baseball's lone 100-win team in the NLDS, lost four straight. I thought for sure they'd win at least one of the two started by
Jon Lester
or Jake Arrieta, but when they lost both those games they were effectively done. Once they lost Game 3, too, they were toast. Theo Epstein may be their president, but they are not the 2004 Red Sox.