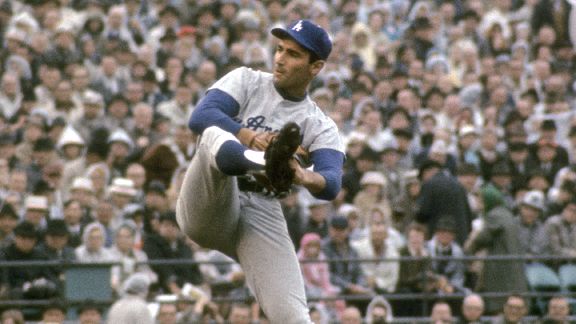 The 1960s produced the most pitching-friendly environment since the Dead-ball era. Many of baseball's legendary pitchers did some of their best work during this decade, but one man towered above them all.
Sandy Koufax
1965 (7.6 bWAR)
By 1965 Koufax was in the midst of a brilliant stretch of dominance upon which he built a reputation as one of the greatest pitchers in baseball history. By this point in his career he was playing through immense pain that would have ended the careers of mere mortals, but like
Mickey Mantle
he overcame his physical obstacles and continued producing at an elite level.
I'm not even sure '65 was Koufax's best season. He did, after all, win the MVP award in 1963, and his final year ('66) was probably just as good as the season that preceded it. It's splitting hairs, really. But since Koufax set many of his career bests in 1965, I feel confident saying that year was his best, however slightly.
Koufax won his second pitching Triple Crown in three years by topping the majors with 26 wins, a 2.04 ERA and 382 strikeouts, setting the modern record for most whiffs in a single season (since surpassed by
Nolan Ryan
's 383 K's in 1973, though Koufax still holds the NL record). He completed 27 of his 41 starts and amassed 335.2 innings pitched, averaging more than eight innings per turn.
On September 9th, he did something only
Cy Young
,
Addie Joss
,
Charlie Robertson
,
Don Larsen
, and
Jim Bunning
had ever done in the modern era;
throw a perfect game
. In what some believe was the
greatest game ever pitched
, he stymied a Chicago Cubs lineup that featured future Hall-of-Famers
Billy Williams
,
Ron Santo
, and
Ernie Banks
in the heart of its order. Koufax needed to be perfect because his opponent, Chicago's
Bob Hendley
, tossed a one-hitter and allowed one unearned run in a losing effort. Koufax punched out 14 Cubbies in his perfecto, setting a record that still stands to this day (since tied by
Matt Cain
last year). The game marked Sandy's fourth no-hitter, breaking
Bob Feller
's major league record of three (though later broken by Ryan). To this day, it is still the only nine-inning game in which both teams combined for just one hit.
Koufax flourished down the stretch, posting a 1.49 ERA in his final eleven appearances cruised to help his Los Angeles Dodgers fend off the San Francisco Giants and capture the National League pennant.
He made headlines by refusing to start Game 1 of the World Series because it fell on Yom Kippur.
Don Drysdale
pitched and lost, as did Koufax when he took the ball in Game 2. After LA rallied to even the Series at two games apiece, Koufax delivered a complete game shutout in Game 5. The Dodgers dropped Game 6 in Minnesota, but Koufax returned on two days rest to hurl another complete game shutout and clinch the championship. For his efforts, he received his second World Series MVP award and became the first player to win the award multiple times (
Bob Gibson
and
Reggie Jackson
later joined him).
The World Series MVP was just one of many trophies that Koufax added to his growing collection that fall. He cruised to his second Cy Young award in three years, winning unanimously back when the award recognized the best pitchers in both leagues. He also received the Hickok Belt as the top professional athlete of the year, becoming the first and only athlete to win the award more than once in the 27 years it was presented.
Sports Illustrated
named him Sportsman of the Year, too. The only honor he failed to win was the NL Most Valuable Player award, though he finished runner-up to
Willie Mays
and probably would have won had teammates
Maury Wills
(five first-place votes) and Don Drysdale not split the vote with him.
Here are some more points of interest from his sublime season:
Opponents batted just .179/.227/.280 off him, and lefties were even more helpless (.145/.190/.243)
He was even more untouchable at Doger Stadium, where he compiled a 1.38 ERA, 0.71 WHIP, and 6.71 K/BB rate. Opposing batters hit a paltry .152/.196/.224 off him there, and I have to imagine Koufax's numbers wouldn't look nearly as good if the Bums never left the cozy confines of Ebbetts Field
Earned the win in the Midsummer Classic, which the Senior Circuit won 6-5
Had 21 starts with double digit strikeout totals
His average GameScore was a 72
Won eleven straight decisions from May 30th through July 20th
The Dodgers went 32-11 (.744) when Koufax pitched, 65-54 (.546) when he didn't
Here's his earned run breakdown
0 runs--9 starts
1 run--8 starts
2 runs--11 starts
3 runs--9 starts
4+ runs--4 starts