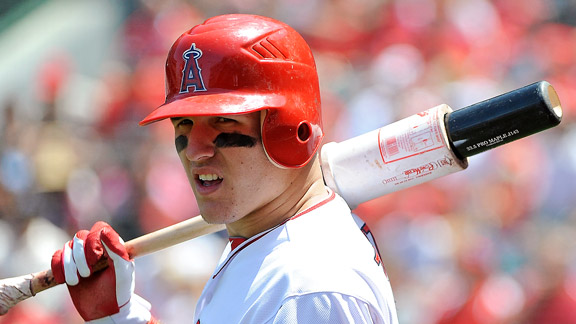 Trout was once again the best player in baseball (ESPN)
Here's my list for the 13 best baseball players in 2013. Their
2012 ranking
is in parentheses.
1.
Mike Trout
(1)
There was no sophomore slump for Trout, who was once again the best all-around player in baseball as well as its most valuable per WAR.
2.
Miguel Cabrera
(2)
Cabrera cruised to his second straight AL MVP trophy, topping his Triple Crown season of 2012. He won the "sabermetric Triple Crown," leading the majors with his .348 batting average, .442 OBP and .636 slugging. His 44 home runs and 137 RBI were eclipsed by only
Chris Davis
.
3. Chris Davis (UR)
Crush was baseball's best slugger in 2013, pacing the majors with 53 home runs, 138 RBI, 96 extra base hits, 370 total bases and 11.0 AB/HR ratio. The Orioles first baseman also clubbed 42 doubles and slugged .634.
4.
Andrew McCutchen
(5)
The National League MVP batted .317/.404/.508 with 21 home runs and 27 steals. Coupled with his strong defense in center field, McCutchen's performance was worth 8.2 bWAR and helped Pittsburgh to its first winning season since 1992.
5.
Robinson Cano
(6)
Delivered another monster season in his walk year, compiling 7.6 bWAR and keeping New York in the playoff hunt until mid-September. The Seattle Mariners rewarded him with a ten-year,
$240 million contract
that ties
Albert Pujols
for the third richest deal in baseball history, behind only the two signed by Cano's former teammate
Alex Rodriguez
.
6.
Paul Goldschmidt
(UR)
In just his second full season, Goldschmidt topped the Senior Circuit with 36 home runs, 125 RBI, 332 total bases and a .951 OPS. That, combined with Gold Glove defense at first base, amounted to 7.1 bWAR and made him MVP runner-up.
7.
Matt Carpenter
(UR)
Carpenter, a second baseman with terrific batting stats, had a legitimate case as the National League's
most valuable player
. The Cardinals' leadoff man led the majors with 126 runs, 199 hits and 55 doubles in addition to batting .318/.392/.481.
8.
Clayton Kershaw
(HM)
Kershaw continued to earn comparisons with
Sandy Koufax
by winning his third straight ERA crown and receiving his second
Cy Young
award. He also posted the lowest WHIP in the majors, led the NL in strikeouts and was the most valuable pitcher in baseball according to bWAR.
9.
Joey Votto
(11)
Votto took a lot of heat for totaling just 73 RBI, but the rest of his offensive numbers leapt off the page. His 135 walks were most in the bigs, and his .435 OBP led the National League. More impressively, he played every game after a torn meniscus limited him to 111 games in 2012.
10.
Josh Donaldson
(UR)
The Oakland third baseman came out of nowhere to post an eight-win season that saw him bat .301/.384/.499 with 24 home runs and 93 RBI.
11.
Carlos Gomez
(UR)
Gomez had the kind of season
B.J. Upton
was always supposed to have: 24 home runs and 40 steals in 47 attempts. B-R estimates his defensive prowess in center field, which netted him his first Gold Glove, was worth more than four and a half wins by itself.
12.
Yadier Molina
(12)
Molina enjoyed another tremendous season behind the plate for St. Louis, winning his sixth straight Gold Glove and setting career highs in batting average, runs, hits, doubles, RBI, and extra base hits
Tie 13.
Adrian Beltre
(8)
Added another Hall of Fame caliber season to his resume by batting .315, belting 30 home runs and leading the major league with 199 base knocks. His usual stellar defense dropped off, but his bat remains elite.
Tie 13.
Evan Longoria
(UR)
The Rays returned to the postseason largely because Longoria rebounded from an injury-marred 2012 to play 160 games--a career high--and crack 32 home runs while playing a terrific third base.
Honorable Mentions:
Adam Wainwright
,
Cliff Lee
,
Buster Posey
,
Yasiel Puig
,
Troy Tulowitzki
,
Adam Jones
,
Shin-Soo Choo
,
Jayson Werth
Off the List:
Ryan Braun
(3),
Josh Hamilton
(7),
Justin Verlander
(9),
Prince Fielder
(10)