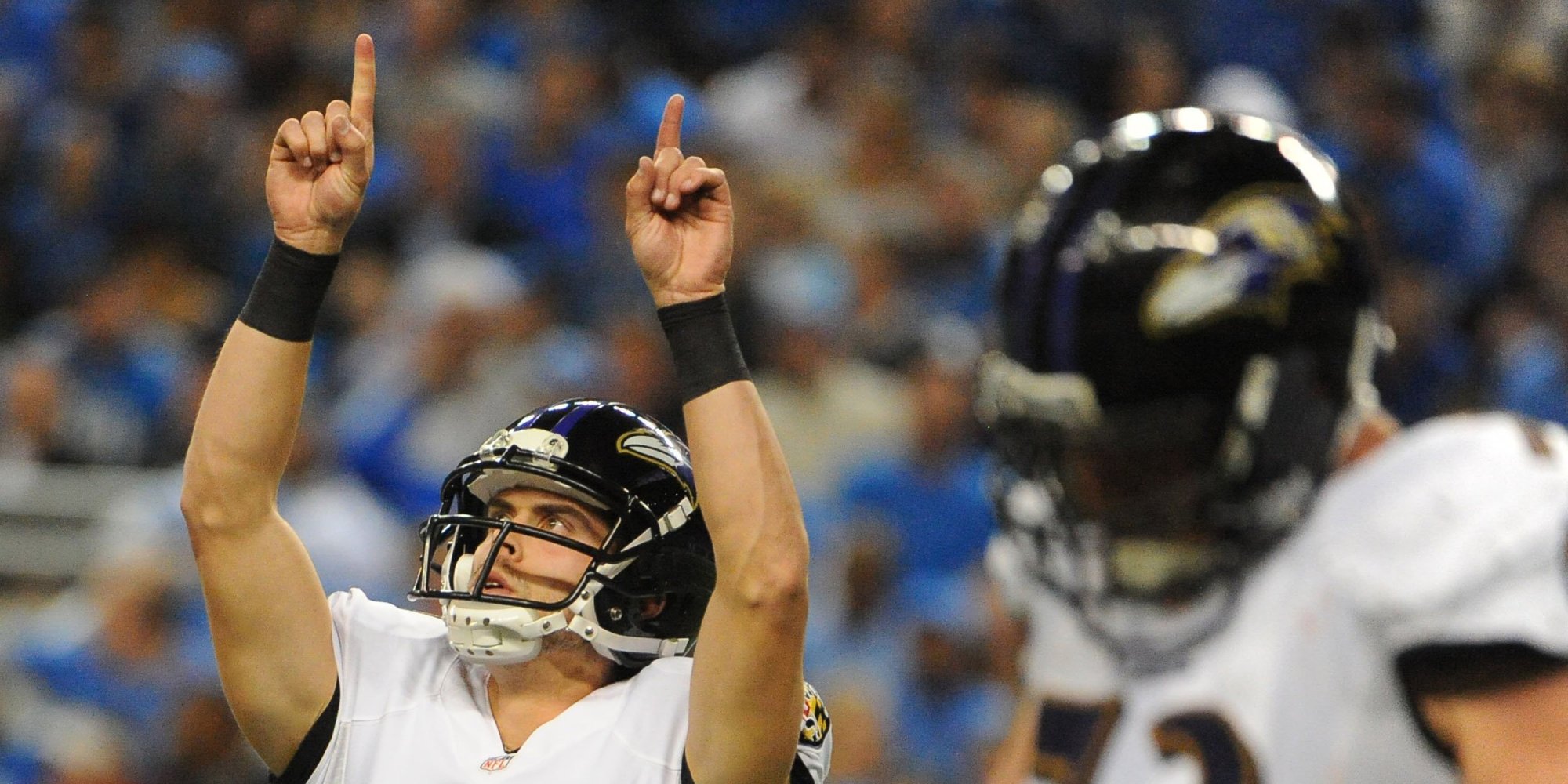 Tucker has made 33 consecutive field goals
Like millions of Americans, I play
fantasy football
. "Play" is the wrong word, I think, because it implies that there's actually some degree of fun involved. Personally, I find fantasy to be much more
frustrating and agonizing
than it should be. Drafting is fun, trades are fun, and winning is fun, but that accounts for 10, maybe 15 percent of the fantasy season I've wasted way too much time scouring the waiver wire, pouring over projections and tinkering with my roster.
Then Sunday rolls around and it becomes a full-blown obsession. I compulsively check my phone from one o'clock onward, watching the points pile up (or not), rooting for my players to score and hoping the other guys' don't. Fantasy consumes my entire day. When I win, it's more of a relief than anything, especially when ESPN pegs me as a 25 point favorite. When I lose, I go back to the drawing board and try to determine where I went wrong.
For much of the season, my most glaring weakness was my kicker, which is strange considering there are plenty of good kickers to be had on the waiver wire since nobody carries more than one. Well, after whiffing on multiple kickers, I've finally found my guy, and just in time for the playoffs.
I've heard fantasy football teams compared to dreams in that they're only interesting to the person talking about them. You snagged
Philip Rivers
off waivers? Great. Took
Aaron Rodgers
with your first pick? That blows.
So if that's the case, then you probably don't want to hear my ramble about my kicker issues and how I solved them at the season's 11th hour. That's fine. Feel free to stop reading and check out some of my other content (hint hint: it's mostly baseball), or click off my blog altogether.
But maybe you've had your own kicker-induced headaches/nightmares/frustrations this season. Perhaps you're still looking for a solution. I probably would be, too, except that I've found the answer to my kicker woes. His name is
Justin Tucker
.
Quick backstory: last year I was undone by
Mason Crosby
, who converted just 21 of his 33 field goal attempts (63.6 percent). By the time I realized the error of my ways and swapped him out for
Dan Bailey
, it was already too late. I finished 8-7, narrowly missing the playoffs because I lost or tied several games that would have been victories with a merely capable kicker.
This year I was determined to avoid making the same mistake. Let Crosby be someone else's problem, I told myself. I would avoid outdoor kickers (who must contend with rain, snow, and gale-force winds) like the plague. Not surprisingly,
Matt Bryant
was my draft day selection. At the time, I was pretty happy about that. Bryant led the league in field goal percentage a few years back and has been one of the NFL's most consistent kickers over the past decade. I figured Atlanta's
Matt Ryan
-helmed passing attack would give him plenty of scoring opportunities.
Before long, my master plan had been reduced to ashes. Ryan's top two receivers--
Roddy White
and
Julio Jones
--both got hurt, and
Tony Gonzalez
, as great as he still is, can only do so much at this stage in his career. Atlanta's offense sputtered and Bryant's role was greatly diminished. As a result, in ESPN leagues he ranks 20th among kickers in points scored, meaning he's not worthy of a starting spot in my ten-team league. Before long I was looking to the waiver wire for help.
I settled on
Garrett Hartley
of the New Orleans Saints. Unlike Atlanta, the Saints have one of the league's most explosive offenses. On top of that I already had
Drew Brees
, so I figured it made sense to get Hartley's extra point every time he threw a touchdown and would settle for field goals when Brees's drives fell just short. While my logic was sound, Hartley's been far from automatic, missing eight of his 30 attempts thus far and ranking 19th at the position, exactly one spot higher than Bryant. That wasn't going to cut it, and when New Orleans' Week 7 bye came around I found myself in need of a new kicker.
I scooped up
Nick Novak
, San Diego's kicker, and he's been pretty good (eighth). Unfortunately, he was on my team for all of two minutes before I cut him in favor of Detroit's
David Akers
, who paced the NFL in field goal attempts four out of the past five years. The opportunities just haven't been there for him this year (only 20 attempts), and as a result he ranks
30th
among kickers. I rode him out for three weeks, then cut bait just before Thanksgiving.
By this point I was extremely fed up with myself. Nothing was working. I was in the playoff hunt and couldn't afford to let a kicker sink my season. Desperate for a stable solution, I decided to go out and grab the best kicker on the waiver wire, regardless of team, reputation, or schedule, and settled on Baltimore's Justin Tucker, who was coming off a 15 point game against the Jets. Nicknamed "Mr. Automatic," Tucker hasn't missed a field goal attempt since Week 2. That he had several favorable matchups in front of him (Pittsburgh, Minnesota) made him even more attractive. I was instantly rewarded with a 19 point performance against the Steelers. Tucker won me over. He had me at hello. I committed to him for the rest of the season, even as he was held without a field goal versus Minnesota in Week 14.
Now, thanks to his
incredible performance
against Detroit last night (six-for-six, connecting from 49, 53, and
61 yards out
), Tucker has leapfrogged
Stephen Gostkowski
and
Matt Prater
to become fantasy's top-scoring kicker. I have to say, after putting up with subpar kickers all season long, it feels good to have the best. One less thing to worry about as I prepare for my postseason. Now if I could only find a halfway decent wide receiver...