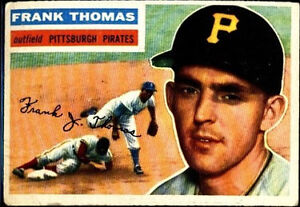 Before there was
Frank Thomas
--"The Big Hurt" and one of the greatest righthanded hitters of all-time--there was Frank Thomas, another righthanded slugger by the same name.
The
original Frank Thomas
, if you will, actually put together a pretty decent career. He came up as a center fielder with the Pirates in 1951, but before long he was a corner outfielder and ultimately a first baseman. In 1953, his first full season, he smashed 30 home runs and drove in 102. He made the All-Star team the two years after that, then again in 1958--his final season in Pittsburgh. That was the year he played third base everyday set numerous personal bests, including home runs (35), RBI (109) and OPS (.863). He finished fourth in the MVP race that year behind a trio of guys you may have heard of:
Ernie Banks
,
Willie Mays
, and
Hank Aaron
.
After leaving Pittsburgh (who went on to win the World Series without him in 1960), Thomas seemed to suit up for a different team every year. He spent 1959 with Cincinnati (two years before they won the pennant), 1960 with the Cubs, then got traded to the Braves early in '61. After that he joined the Mets for their inaugural season and was one of the few players to play at the major league level (34 homers and 94 RBI in his last good season). Mercifully, he was dealt to the Phillies midway through 1964, just in time for their infamous September collapse. In 1965 he was traded twice--first to the Astros, then back to the Braves--before returning to the Cubs in 1966 and finishing out his career (two years after his final game, almost to the exact day, Frank Thomas was born).
Astoundingly, he switched teams eight times and played for seven different ballclubs in his 16 years, and not once did he leave the National League. "The Big Hurt" played his first 16 seasons with one team, the Chicago White Sox, and did so in the free agent era, no less. Thomas the first wasn't a bad player, by any means, but pretty much all of his value came from his power and he never really found his natural position. Had he come along a couple decades later, he probably would have been a great DH, just like that other guy named Thomas.