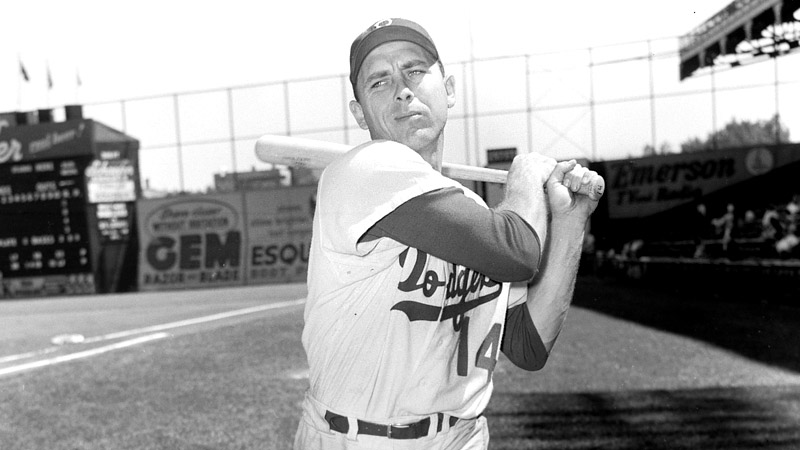 Taking all of his accomplishments into consideration, Hodges is a Hall of Famer
I've been thinking about the Hall of Fame a lot lately, mainly about how it's such a mess (watch
Greg Maddux
make it in, but nobody else) and how the entire voting procedure needs to be overhauled. First and foremost, the arbitrary ten-player limit on ballots must be removed. It serves absolutely no purpose. Second, the standard for induction must be lowered from 75 percent, a barrier that doesn't make the Hall any more exclusive than a simple majority and serves only to prolong the wait players must endure before they finally get the call.
Scaling down the 50 percent sounds like a big drop-off, but it isn't when you consider that every player, except for one, who crossed that threshold was ultimately inducted into Cooperstown. That one player is
Gil Hodges
, of course, and he should be in, too. He spent 15 years on the ballot and exceeded 60 percent three times, topping out at 63.4 percent in his last try.
Now, a lot of people don't think Hodges is Hall-worthy because he wasn't dominant when he played. It is true that he never led the league in any significant offensive statistic of the day. That is reflected in his poor MVP showings--he never finished higher than seventh, and he was often overshadowed by his Hall of Fame teammates
Roy Campanella
(a three-time winner),
Duke Snider
and
Jackie Robinson
. His 120 career OPS+ is good but nothing special, tying him for 356th all-time with the likes of
Willie Horton
,
Shawn Green
,
Paul O'Neill
, and
Richie Sexson
, none of whom are getting into the Hall without a ticket.
But if Hodges wasn't dominant, he didn't miss by much. He had a terrific nine-year run starting in 1949. He batted .284/.372/.515, good for 130 OPS+, while averaging 32 home runs, 108 RBI and 95 runs per year. He drove in more than 100 runs in the first seven of those seasons, made the All-Star team every year but one, and twice topped 40 homers. He ranked as the league's seventh most valuable player, compiling 40.9 of his 45 bWAR during this span. In the 1950s he was exceeded only by Duke Snider in home runs (310) and RBI (1,001). Hodges also had a great defensive reputation, known for his exceptional hands which helped him win the first three Gold Gloves awarded to National League first basemen.
But great defense at first base isn't nearly as valuable as great defense at premium positions,and looking strictly at Hodges' numbers, he doesn't quite measure up with his fellow first basemen. JAWS rates him 33rd all-time at the position, in the same neighborhood as
Don Mattingly
,
Carlos Delgado
, and
Mark Grace
. The only two Hall of Famers below him are
Jim Bottomley
and
High Pockets Kelly
, both of whom are considered to be among the weakest players in the Hall. There's not a single Hall of Famer among his ten most similar batters, a list that includes good-not-great players such as
Norm Cash
,
George Foster
,
Jack Clark
,
Rocky Colavito
, and
Lee May
. As a player, Hodges was very good but falls just short of the Hall.
But Hodges should get extra credit for his other accomplishments. He was one of the fabled "Boys of Summer" who brought Brooklyn its first and only World Series title in 1955. It was Hodges who plated both Dodger runs in Brooklyn's 2-0 victory in Game 7, giving
Johnny Podres
the run support he needed to beat the Yankees. One of the most popular players in Brooklyn history, Hodges returned to New York as one of the original members of the horrid '62 Mets, later managing them to their first World Series championship in 1969. He famously finished his career with more grand slams than anyone except for
Lou Gehrig
. When he retired his 370 home runs ranked tenth all-time and second only to another great first baseman--
Jimmie Foxx
--among righthanded hitters.
More importantly, Hodges was an outstanding teammate and human being, a class act who, like
Stan Musial
, played the game the right way and never caused trouble with anyone. When he died suddenly in 1972 at the age of 47, more than 10,000 people came to his wake. If the character clause can be used to keep
Barry Bonds
and
Roger Clemens
out, why can't it work the other way?
So yeah, I'll readily admit that on numbers alone, Hodges isn't a Hall of Famer. But throw his managerial skills and status as a Brooklyn legend, and I think that's just enough to put him over the top. Lord knows the Hall of Fame would be a better place with Hodges than without him.