The Mariners were stupid to break the bank for Cano
A dizzying week of Hot Stove action concluded yesterday with the stunning announcement that the Seattle Mariners had signed
Robinson Cano
--easily this offseason's
best free agent
--to a jaw-dropping
ten-year, $240 million contract
that ties
Albert Pujols
' current deal for the third largest in baseball history (behind the two signed by Cano's now-former teammate,
Alex Rodriguez
, who interestingly enough spent his first seven seasons wuth Seattle).
Obviously this deal is amazing for Cano, who was able to settle for something right in the middle of the $310 million he was
reportedly asking for
and the $175 million New York was
willing to give him
. Some called him crazy for leaving the Yankees, perennial contenders as well as the sport's most famous franchise, for a team in the Pacific Northwest that's enjoyed only two winning seasons in the past ten and hasn't reached the postseason since winning 116 games in 2001. But the Mariners simply blew away New York's seven-year offer. If somebody's giving you three extra years of job security
and
37 percent more money (which is really almost 50 percent when you take into account Washington's lack of a state income tax), you take that deal every time, no questions asked, and hope you're not somehow selling your soul in the process.
On the other hand, this deal is
absolutely terrible
for the Mariners for various reasons, none of which have much to do with Cano, who has been baseball's second most valuable player behind
Miguel Cabrera
over the past four years (according to FanGraphs). To the Mariners' credit, they did spend on their money on a really really good player and not, you know,
Ricky Nolasco
. That Cano is 31 and plays second base, a position that doesn't age particularly well, doesn't matter as much. It's impossible to know what the next ten years hold for Cano, who could age gracefully like
Joe Morgan
and
Jeff Kent
or could fall off a cliff like
Ryne Sandberg
and
Roberto Alomar
. With the way Safeco suppresses offense I don't think he's going to be the monster MVP candidate he was in New York, but I also don't think he's going to pull an
Adrian Beltre
on them, either. Like any marriage, this one is going to have its ups and downs.
The first and most obvious reason Seattle shouldn't have made this deal is the money. $240 million doesn't buy what it used to, but with that amount of dough Seattle easily could have added four or five midlevel free agents, or even two really good free agents (as the Yankees just did with
Jacoby Ellsbury
and
Brian McCann
). Lord knows they have plenty of holes to fill, and t's always better to spread the money around and improve multiple positions when you can because it reduces the risk. You're pretty much guaranteed to get some bang for buck. Blowing your wad on Cano is incredibly risky, because he's just one man who might walk out his front door and get hit by a bus tomorrow.
Think of it in terms of stocks. Sure, if you pour all your money into one Google you might strike gold, but you could just as easily lose everything if the company goes belly-up next month. Investing in multiple stocks means you'll probably turn a profit on some and take a hit on others. The upside is reduced but there's also less risk. That's why smart investors typically have diverse portfolios.
The second reason I hate this deal, not far behind the money, is the length. Ten years is an absurd amount of time to commit to a 31 year-old ballplayer who's best days are probably already behind him. What the Mariners just did is lock up Cano's decline years, and they'll be lucky if he has any use at all at the back-end. Joe Posnanski often writes about how poor the track record is for long-term contracts given to players in their 30s, and I'm sure someday Cano will be at the center of such conversations. But that's just how these deals work. Teams accept the deadweight at the end of the contract to get the value from the first few years. It's trading the not-so-distant future for the present and very near future.
There's more wrong with this deal than the Mariners 's signing Cano for a decade, dropping more money on him than they committed to their entire payroll in the past three seasons combined (which is really quite stammering when you think about it). Players like Cano, Pujols, and Price Fielder, you see, are luxuries that only rich teams can afford. Bad teams are usually bad because they have multiple glaring weaknesses, usually some combination of a thin starting rotation, shaky bullpen, and weak lineup. Even though the Mariners had two of the best arms in baseball last year with Hernandez and
Hisashi Iwakuma
, they were so poor everywhere else that they finished 20 games below .500. Cano makes their weak offense significantly better, but even if he plays like
Mike Trout
, he's not going to turn the Mariners into contenders overnight.
Which brings me to my next point: bad teams shouldn't make these kinds of moves in general. A superstar baseball player is just one man on a roster of 25, so without the right talent around him he's not going to be much use. The perfect example of this is what happened during A-Rod's stint with the Rangers. The year before Rodriguez signed with Texas, the Rangers finished last in their division and were 71-91, which coincidentally matches Seattle's 2013 record. Texas did improve the year after signing Rodriguez..to 73-89. They were 72-90 the year after that, then went 71-91 when Rodriguez won his first MVP award in 2003. Rodriguez was as good as any baseball player can possibly be during those three years, and it didn't make a lick of difference. The Rangers had so much money devoted to him that they couldn't afford to address their other needs, mainly a dearth of quality starting pitching, so they finished last every year. It wasn''t until they traded Rodriguez to New York in exchange for
Alfonso Soriano
and salary relief that they were able to get out of the basement and begin putting the pieces in place for what materialized into back-to-back American League pennants in 2010 and '11.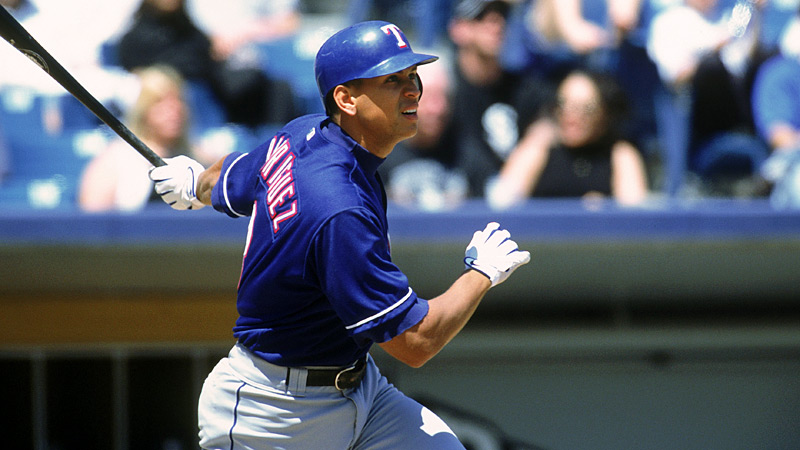 With Texas, A-Rod's numbers were off-the-chart, but the Rangers still sucked
Of course, Rodriguez is a cautionary tale in another way. He was 32 when he signed his second ten-year deal, just one year older than Cano is now, and he hasn't been anything close to the player he was before. Age and injuries have reduced him to a shadow of the player who won three MVPs in five years, so his contract is routinely mocked and one has to imagine the Yankees would do anything short of murder to get out from under the four years and $86 million they still owe Rodriguez, not including the $30 million he could potentially earn by vaulting to the top of baseball's all-time home run list.
Cano won't cause as many headaches as Rodriguez (no one else on this earth is capable of that), but it's likely that his contract will be regarded as an albatross before long, possibly as soon as next year based on what just happened with
Josh Hamilton
. Time is not on Cano's side, but it is on the side of the man he's replacing in Seattle. And that's what makes this move even more puzzling: Seattle seemed to have a decent second baseman already in
Nick Franklin
. Franklin isn't Cano and probably never will be, but he's a former first round draft pick who showed a good deal of promise as a 22 year-old rookie last season. He didn't set the world on fire in his first 102 games, but proved he could hit for some power (12 dingers and 20 doubles), work the count (10.2% walk rate) and run the bases capably, which translated to 2.3 bWAR. Still several years away from entering his prime, the switch-hitting youngster has plenty of room to grow. Cano doesn't. Now, Franklin's only use to Seattle is as a trade chip, but almost certainly not in the trade rumors that would make
David Price
a Mariner (seeing as how Tampa Bay already has an All-Star second baseman in
Ben Zobrist
).
Meanwhile in the Big Apple, it looks like the Yankees will have to settle for
Kelly Johnson
at second base, at least for the time being (why not move Jeter?). It's hard to feel bad for them, though, given that they just
landed Ellsbury
on Tuesday with a seven-year, $153 million mega-contract and
secured McCann
with a five-year, $85 million deal last month. Cano's departure coincided with
Curtis Granderson
's, who simultaneously defected to the Yankees' crosstown rivals for
four years and $60 million
. Yesterday wasn't a total loss for the Bombers, though, as they still managed to woo
Carlos Beltran
with a
three-year, $45 million
pact and convinced
Hiroki Kuroda
to
return for another year
(more on those moves to come).
Losing out on Cano was one of the rare times were the Yankees didn't just fail to get their man, but were unable to retain one of their own. From A-Rod to
Derek Jeter
and
CC Sabathia
, the Yankees never seem to have trouble keeping their best players in pinstripes. Those days, it seems, might be coming to an end. New York's bloated payroll is burdened by massive commitments to washed up stars like Rodriguez, Sabathia, and
Mark Teixeira
. With Cano, they drew a line at seven years and refused to budge. Perhaps they've learned some sort of lesson after all.
It's a lesson the Mariners are going to learn soon enough.