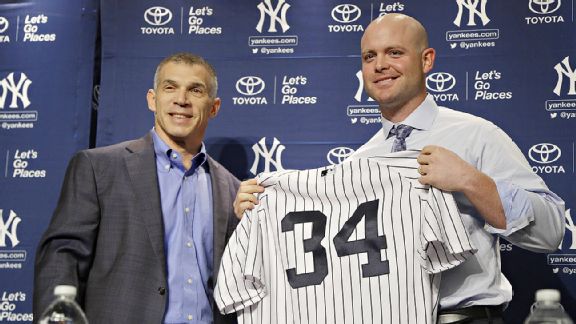 How will Ellsbury and McCann (pictured) fare in their age-30 seasons?
A quick look at how the two newest Yankee stars will fare (fantasy-wise) in 2014. Both of them will be 30, so I'm not predicting any decline. I'm also not taking serious injury into account.
As long as
Jacoby Ellsbury
's healthy he should score plenty of runs batting at the top of the Yankees lineup, even if many of the hitters batting behind him aren't what they once were. I'd expect Ellsbury to lose a few points off his batting average after leaving Fenway and it's Green Monster, especially since most of his fly balls are hit to left and center field. He pulls the majority of his home runs, so in that respect Yankee Stadium should add a handful of big flies and RBI. I think it's unlikely that he'll ever steal 70 bases again, as he did in 2009, but should settle close to 50.
Ellsbury 2014: 95 runs, 14 home runs, 59 RBI, 48 steals, .292/.351/.438
Like Ellsbury,
Brian McCann
should see an uptick in his power figures as well: his first 30 home run season may be in the cards. I'm also betting that he'll exceed last year's games played total of 102 and that his counting numbers will improve in turn. I feel confident in some batting average improvement as well, given that his BABiP was just .261 last year--nearly 30 points below his career average. A return to the .270-.280 range is possible, but he'll probably wind up in the .260s.
McCann 2014: 56 runs, 25 home runs, 72 RBI, 1 steal, .264/.347/.474
So yeah, I think the Yankees are going to get their money's worth in 2014.